The LHS girls' tennis team placed first in the OCC championship overall and individual athletes finished the season with awards. Andi Green was selected to first team All OCC, Kynlee Baer received second team All OCC honors, and Gracyn Gagni, Kaylee Akers, Tori Wellington, Chelsie Hoffman, Kenzie White, and Addy Brown were all selected to third team All OCC. The girls finished with a 12-5 overall record. 
¨I played the number one spot on the team this year. I earned third-team all-OCC for first singles. As a team, we won the Ohio Capital Conference, which we had not won since 1994. I also received the Most Valuable Player Award at the end of my season,¨ said Gagni. 
¨Some highlights of this season were the bus rides to and from matches, being able to shout ¨Gales Up¨ after each win, and the tennis banquet to wrap it all up. The banquet brought emotions to each of us, strengthening each of our friendships. It was a perfect note to end the season on,¨ said Hansen. 
¨The highlights this season were all the fun bus rides and going out to eat with our team after wins, having a good record which was 12-5, doing well in the OCC, and I was awarded the Donna Keaton Legacy Award this year at our banquet. Another highlight from this season would have to be my match against Reynoldsburg which lasted three hours and 40 minutes. I was the last one playing and whether I won or not would determine if our team would win. I won in a tiebreak with the tiebreaker score being 17-15 and this match was an OCC match,¨ said Green.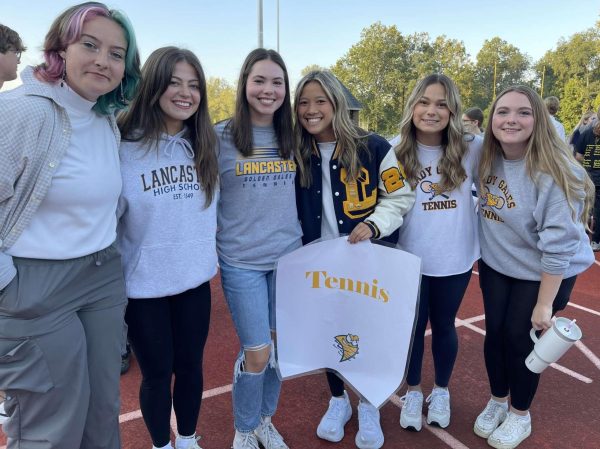 LHS senior Andrea Green spoke about the challenges she faced and the effort everyone put in this season. 
"The most challenging thing for our team this season I would say would be when we went to districts we all did well, but none of us moved on from there, so the most difficult part was trying to keep our heads up and having a positive attitude afterward. It was disappointing especially for us seniors because that was the last match we played,¨ she said.  
Coach Elick said that another challenge the team faced was losing the participation of an athlete due to an injury suffered off of the tennis court.
¨One of our returning seniors, Olivia Faz, was injured in an automobile accident, and only played in two matches the whole season. That hurt our depth, but the good news is she is doing much better and would have been able to play if the season had lasted a couple of weeks more,¨ said Elick. 
This year's team lost six seniors who graduated last year and who have been playing on the team for years. Despite their successful season, losing that many returning players had a big effect on everyone on the team including the coach.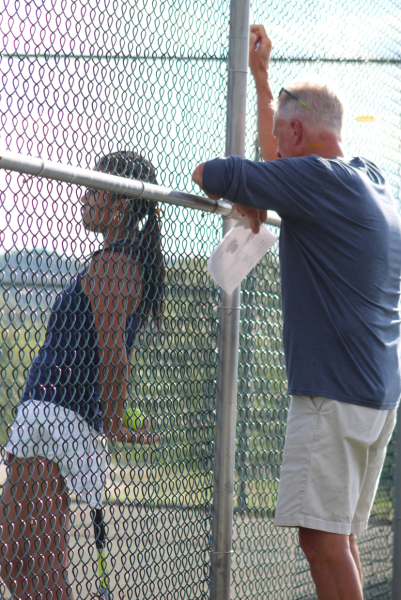 ¨We are losing six seniors who contributed greatly to our teams' success this year. Next year, we need the players who played behind them this season to step up and take a more prominent role on the team,¨ he said.
Tennis, like many sports, is time consuming so athletes have to balance academics with sports.
¨The most difficult thing for us might be time management. Tennis, like most sports, takes a lot of time and I know that each of our girls cares about their grades tremendously, which requires us to make use of our time. I decided to take all college courses this year and it was a lot more work to manage than I expected,¨ said Hansen.
Sometimes it takes a young team time to gel as a unit that can work together.
¨This year we had a lot of new members on our varsity team. At first it was finding our rhythm, but once we did there was no turning back,¨ said Gagni.
LHS seniors said what they will miss the most about this season and how it affects them. 
¨I will miss my teammates and my coach the most. The memories I have created over the past four years are going to be with me throughout my life. Our van rides were always amazing and filled with laughter. I will always miss singing Taylor Swift on the bus with varsity and JV,¨ said Gagni.
 ¨What I will miss the most from tennis other than playing competitively will be the relationships you built with my teammates and your coaches. The bond I've had with my teammates and coaches over the years has been very special and I wouldn't trade it for anything,¨ said Green. 
¨I will miss my high school tennis experience, but of course, I can play tennis for the rest of my life. So, I will miss my friends the most. Lady Gales Tennis brought me loving, exciting, and supportive friendships. I made so many memories at practice, matches, and even off the courts. It is difficult leaving such amazing people when you have spent so much time with them each week,¨ said Hansen. 
Coach Elick gave kudos to seniors that stood out to him. 
"Our three captains, Hannah Hansen, Gracyn Gagni, and Olivia Faz were our most valued team members for what they did off the court. They made sure to involve all players in all activities and created an atmosphere where all players felt, and rightfully so, that whether they played on varsity or JV, they all contributed to the team's success. On the court, every varsity player came through for us at one time or another, when a match result depended on their play," he said.