The LHS varsity boys' golf team placed second and earned a seasonal low score of 340, at the Logan Invitational. Some golfers shot career lows this year, including standout golfer sophomore Gabriel Betts, who shot a career low of 76, and junior Zane Brengman,who shot a career low of 82.
Betts almost made it to districts as an individual but missed out by three shots. 
"Gabe Betts had a great year this year. He earned second place OCC honors as an individual and also had four rounds in the 70s," said varsity Coach Truex.
LHS junior and golfer Zane Brengman said he is happy with his own game.
"The season as a player went well. I surpassed my goals for the year. Shot a few different career lows," said Brengman.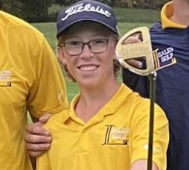 Betts was the only player this year with varsity experience which posed a challenge for the team.
"Nearly everyone on the team had their first varsity experience this year, but the way that they handled it throughout the year was great," said Betts.
"Only one of our golfers (Gabe Betts) had played in a varsity match before this year and we didn't have any seniors in our program so we had a lot of learning and growth to take on throughout the year," said Truex.
Despite limited varsity level experience to help lead the team, both Betts and Brengman said that the team tried to overcome the challenge.
"The oldest player on the team was a junior and Camden Campbell. With that said, Coach Truex and Coach Leasure are amazing coaches and would do anything for any player that asked. As coaches they help everyone on the team tremendously. They are amazing people," said Brengman.
 "Being on a team with all seniors last year, compared to having no seniors this year was a big change, but I am proud of how my teammates handled it," said Betts.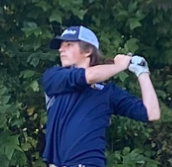 The teammates really seem to get along. Since they are around each other so much, it makes sense why.  Golfers said that the team created a strong connection.
"As a team we had our ups and downs, but we grew and got better which was our goal for the year. As a team we bonded and grew closer and we are very excited for the future," said Brengman.
"The team dynamic is amazing because everyone gets along very well. There are not a lot of people on the team, only about 11-12 of us, so being such a small group we are all very close and we all help each other get better," he said.
Coach Truex agreed with Brengman and complimented his athletes' abilities on and off of the golf course.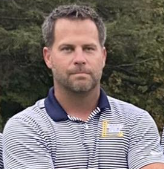 "The team really gets along and they're a great group of boys. With golf, they miss quite a bit of school due to tournaments being during the day, so they have to be great students in the classroom in order to be successful student athletes," said Truex.
Now that the season is over, the team will work on improving and building on their experience from the past season.
"As this year was more of a building year, I think next year we can push each other more to become better players.  I look forward to next year, and how our team will grow," said Betts. 
"The goal for next year is to improve and get better as a team and as individuals. We would like to play better golf than this year and make it farther into the tournament. But overall we just want to get better," said Brengman.
Truex said that golf is not just a physical activity but requires emotional fortitude.
"Golf is a very hard sport, in general, but one of the tougttg7yuhest, as far as the mental side of things. To see the players grow in their confidence and have success on the course is really fulfilling," said Truex.