In the Swim of Things
LHS teams take top spots at OCC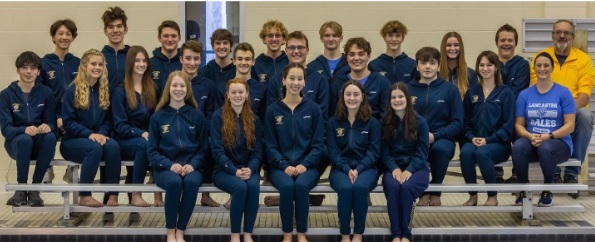 Lancaster High School's Boys' and Girls' Swim teams both placed in the Ohio Capital Conference. The boys' team finished first at the OCC, ending the season with a six win, two loss record. The girls' team finished the season with four wins, four losses, and placed second in the OCC. LHS senior Mia Hensley won two individual OCC titles while competing in the one hundred butterfly and the two hundred individual medley. 
"I'm very proud of how far I've gotten. I've made it to states and helped build the team as much as possible," said Hensley. 
LHS junior Caroline Conklin, who swam a personal record in the five hundred freestyle at the OCC, said she was proud of the accomplishments the team has made.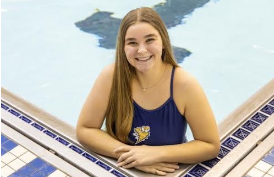 "In my opinion, the swim team doesn't get all the hype and notice that they should," Conklin said. 
LHS freshman Amelia Robertson recalled some additional highlights that contributed to the swim teams' successful seasons.
"Some highlights were when the men's team won OCC's, qualifying for Canton Invitational, and winning the 100 Backstroke at OCC," said Robertson.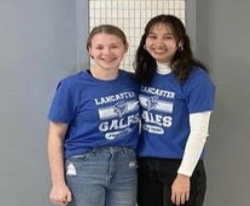 Overall, head coach Axel Birnbrich said the team's biggest hurdle this year was keeping swimmers healthy in order to compete at the tri-meets and invitationals.
"There were times three to four swimmers were ineligible to swim due to illnesses as we were getting on the bus, therefore changing our line-ups became a challenge," Birnbrich said.
"We've had several times where events have had to be switched around at the last minute due to people being contacted or testing positive with Covid-19," said Conklin. 
Nevertheless, the team pushed through and athletes stepped up when others were not able to compete and they were able to use the experiences to build team strength and unity.
"Something that helped create a bond with the team during the hardships of Covid in my opinion, were those stressful last minute changes. Especially in relays there were many times someone got swapped without notice," said Conklin.
LHS junior Samuel Strigle, who finished seventh in the two hundred freestyle at the OCC, said he believes that being a part of the swim team, and creating a strong team dynamic is important.
"I've known most of the team even before high school and developed good relationships with everyone which really helped overall as a team," said Strigle.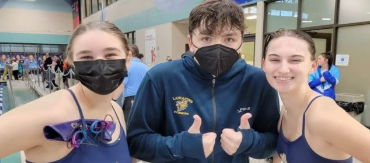 Hensley thinks getting through the hard practices together really helped the team bond.
"We are always cheering for each other whether we have a good or bad race," said Hensley..
LHS senior Joshua Murdock also said he thinks the support and encouragement of others at meets and practices are what helped create encouraging relationships on his team.
"We also push each other at practice and strive to make each other better as well as ourselves. It could be trying to get others to do a more tiring stroke or encouraging them to keep going through hard sets," said Murdock.
LHS freshman Jackson Hensley, Mia Hensley's brother, agrees. 
"When I practice with my teammates, they are always supportive and will cheer each other on while they are not swimming," he said. 
As a team, it is very important to maintain a positive dynamic. Although most of the races are individual, swimming overall is a team sport. Being a part of the team means that players are always there to support each other. 
"It does not feel much like an individual sport with how much influence the members of the team have on meets," said Josh Murdock.
"My favorite thing about being a part of this team has been the spirit and support. You can always look at the other side of the pool and see at least one person there cheering for whoever is in the water," said Murdock.