A Smooth Transition
New LHS class officers take on leadership roles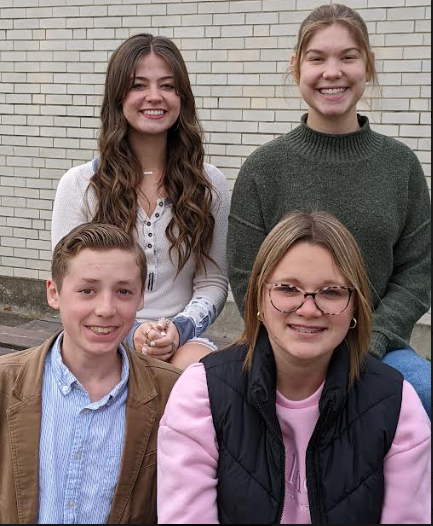 Why would a high school student want to hold a class office? It looks good on a resume and colleges tend to recruit students who get involved. Being a class officer is also an excellent way to get firsthand knowledge of the inner workings of the school and be privy to a range of personal and professional benefits such as networking and recommendations (Accredited Schools Online). The four class presidents at Lancaster High School are senior Kara Weaver, junior Hannah Hansen, sophomore Addison England, and freshman Connor D'Amico.
Weaver has run for class officer every year since she has been in high school, starting with her freshman year.
"I had decided to run for President because I thought it would be a great opportunity to get involved within the school's community," said Weaver.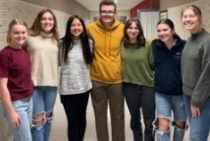 "Over the last 4 years, I have used social media, posters, candy, and stickers to campaign," she said.
Weaver made many stickers that she and her friends wore on their faces, making it easy for them to spread the word about her campaign.
"I highly recommend getting involved in Lancasters student government. There are a lot of lessons to take away. You also get to meet new people and join one of the district committees, and the meetings are very interesting to attend," said Weaver.
Hanson said that being involved in student government helps to build academic, social, and personal skills necessary for various aspects of life.
"I highly recommend running for any class office position because it has so many learning opportunities, such as becoming a better leader through collaboration, learning how to set up fundraisers, or managing money for events. You also meet new people, get to share creativity, and have the ability to make a difference at your school," Hansen shared.
Her experience as a class officer is something that Hansen says she hopes will also help her as a senior next year.
"I don't know what made me run for president instead of co-vice but I am glad I did. I really enjoyed my position last year so I ran again, and hopefully, I will run next year as well," said Hansen.
Sophomore class president England said it can be intimidating to campaign for the class officer, but is eager to take on the responsibility of leading her high school class.
"I felt as if I was a good representative of the sophomore class. I had wanted to run last year but got too scared since I was a freshman and new to the school," said England.
"It's really fun. (Student Government) has good people to be around, and it just feels good knowing you're a class representative," she said.
As a new student to the high school, D'Amico said being the freshman class president is a role that he takes seriously and hopes to be able to fulfill his duties.
"I decided I wanted to run for president because I thought that I would be a good representative for my class and that I would be very helpful when it comes to planning events," D'Amico stated.
"I would recommend running for a class officer position. It is enjoyable to know that what you are doing is leaving a positive impact on others in your school." D'Amico stated.