Student Spotlight
LHS student designing her way to a bright future
She's what one would call a well-rounded student. Lancaster High School junior, Hannah Hansen is team captain of the Lady Gales tennis team, junior class President and involved in multiple clubs such as NAHS, Science Olympiad, and Key Club. Hansen was also class president for two years in a row. Recently she created an outstanding model of a home in her Civil Engineering and Architecture class which was showcased at the Ohio School Board Association Capital Conference for PLTW. Hansen has always had a love and passion for architecture and interior design but also getting encouragement from the high school staff helped her along the way.
"I took Civil Engineering and Architecture because of Mr. Hartzler's encouragement and my interest in architecture. In my previous years of high school, I took the other Project Lead The Way classes such as Intro to Engineering and Design my freshman year and Principles of Engineering my sophomore year," said Hansen.
Building and designing a modeled home using the resources that she did seems like a very challenging assignment, but Hansen made it work.
"Our project was to create a small-scale model of a home out of the styles we learned about in class. I cut out foam board to build walls and accents, then put it together using hot glue. My model is a bungalow, which features low-pitched roofs, decorative porches, and large windows. I am currently in the process of decorating it for my own entertainment," said Hansen.
LHS teacher Holly Lavender recognized the high-level effort that Hansen demonstrated in the model home project and said the details she included made an impact.
"I think Hannah was looking to model a bungalow style and I thought she did a very nice job on that because if you see here, this little porch. It's proportioned right and she took a lot of time to make all these shingles on the roof and all these windows. There's just a lot of really nice detail here that she went above and beyond to show what this style really looks like. She put a lot of work into it." said Lavender.
Lavender went on to praise Hansen for her natural talent in building design.
"Hannah seems to have a really good feel for it, the topic has a bit of background because of her dad. He does this type of work and so it is a good resource for somebody who has a good feel for style and has a good feel for construction as well," she said.
"I have only had Hannah for just this class but I know she comes in here and gives Mr.Hartzler a hand as well, she seems very interested and dedicated to the STEM program and has been really active and involved in it. She's taken all the classes, been here, done stuff and experienced things. Just so involved," said Lavender.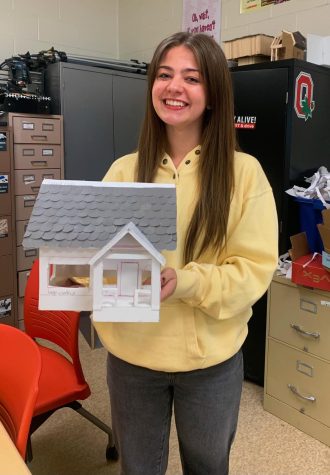 After Hansen graduates high school, she plans to pursue architecture in college.
"I have grown up around architecture, homes, and interior design my whole life. I always leaned towards the interior design side of it because of my love for art. However, when I found my passion for engineering through the PLTW classes, I realized I could have a future in architecture," said Hansen.
Lavender agreed that Hansen has an excellent chance to succeed in future projects.
"I feel great about Hannah's accomplishments, I mean I enjoy having Hannah in class and I'm very anxious to see what Hannah does when we do our Affordable Home project because I think she's got potential to show something very amazing," said Lavender.