Steady Season
Gales send one to State competition
The LHS boys' and girls' swim teams went through highs and lows this season. The boy's team captured their third consecutive OCC title. They went on to have a great day at Sectionals, sending three individuals and two relay teams to Districts. One individual for the Gales qualified for the 200-yard individual medley where he got fourteenth in Ohio and qualified for the 100-yard breaststroke at the State competition. The girls' team had a challenging year but made significant improvement throughout the season.
The Gales welcomed a new head coach this season. Coach Crist is now the head coach after being an assistant for two years. She shared her thoughts on the season.
 "Our team showed up for big meets and took on a harder schedule this season with almost all meets against OCC opponents," said Crist.
Sophomore Jack Hensley was the standout swimmer for the Gales. He was the team's sole state qualifier and made it through prelims onto finals at the state meet. Hensley broke his own school record in the 100-yard breaststroke in a blazing 58.44 seconds. The state meet was a special experience for Hensley.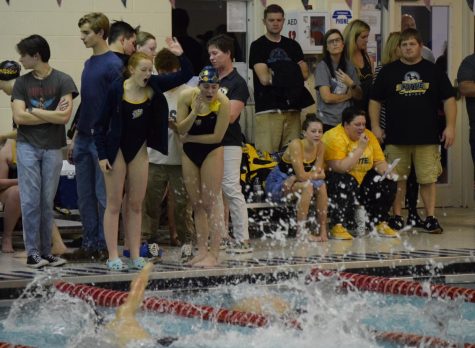 "The feeling of swimming in the state competition wasn't like any other swim meet I've ever been to. The atmosphere was electric and every seat in the crowd was filled. It was one of the most exciting and intense meets I've ever had."
Junior Marlee Byers acknowledged the boys' OCC championship and her highlight of the season.
 "This season I would say the highlights were definitely OCCs and getting fourth place in my 100 breaststroke."
The swim team has a family dynamic. They consistently root for and provide support for their teammates.
 "The swimmers are all very team-oriented and can be found on the pool deck cheering on their teammates between their own events," said Crist.
Byers describes how close the swim team is, even during tough days.
 "We are all basically each other's best friends, even if we are in a hard practice you will find us all smiling because we're just glad to be there around our friends."
Coach Crist wanted to find a way to get the swim team more involved with LHS. They came up with the Teacher Appreciation Plunge in which teachers who inspire the swimmers were asked to attend a home meet and jump in the pool with their swimmer.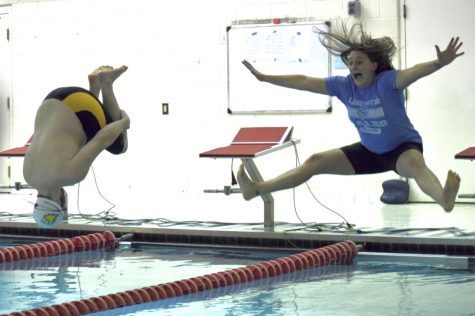 "It was a ton of fun and we plan to do it every year," said Crist.
Injury setbacks and a lack of incoming swimmers joining the team made for a tough year for the girls' team. Coach Crist expressed those difficulties. 
"We faced a lot of injuries and with only gaining one freshman, everyone had to really step up to fill spots," said Crist.
Changes were made to the events the girl's team swam this season. Byers admires the change senior Kendall Cox went through.
 "Finding everyone's niches, my friend Kendall specifically went from a freestyler to also being a butterflyer in our medley relay so that was really really cool," said Byers.
The senior athletes and coaches helped junior Marlee Byers enjoy competing and not just on personal bests.
 "They taught me to prioritize having a good time while still working hard, that was really awesome because it made me enjoy the sport a little more instead of just focusing on improvement, but in addition to that also having a good time," said Byers.
The Gales will work to improve for next season and continue to compete in the OCC. "Our team goals are always the same: Drop Time. Be Competitive. Win OCCs. Send Girls and Boys to Districts. Have a presence at the State Swim Meet," said Crist.
Hensley competed in the state meet as a sophomore, he is looking to repeat that accomplishment next year.
 "My goal for next year is to win our 4th OCC title in a row and make it back to the state swim meet."
Byers made progress on the basics this season but is looking for her times to drop next year. 
"Dropping more time because this year I made improvement in my strength and technique but I didn't get as many times out of it as I wanted. Also becoming closer with my teammates," said Byers.