Cheers to the Golden Gales
LHS Cheerleaders bring spirit and energy to the game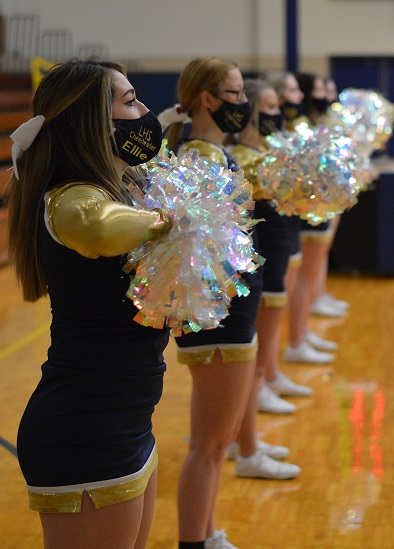 David Bui, Print and Layout Website Layout Editor
March 17, 2021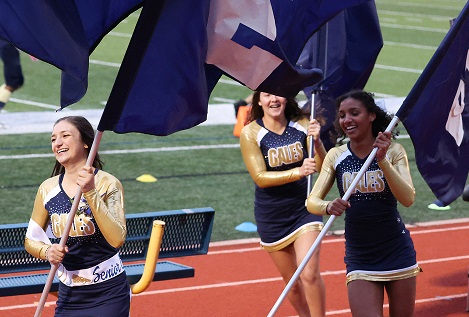 Lancaster High School's cheerleading team is the spiritual backbone of the sports teams at LHS, as their main priority is to promote and support the Lancaster Gales. Like other athletic teams during the Coronavirus pandemic, the cheerleaders had to follow strict health restrictions this year.
Senior Ellie Clark described some of the challenges.
"Not only did we have to wear masks while cheering, but we were also unable to have team dinners before games which is a really important part of our team bonding," she said.
But as the spirit raisers of LHS, the athletes focused on the bright side.  
"The positive from this though as we all came together, worked harder, and enjoyed our times together way more than a regular season," Clark said.
According to Ashley Draper, Marketing Director of  Universal Cheerleaders Association, there are five main responsibilities of a cheerleader: Crowd Leader, Spirit Raiser, Ambassador, Athlete, and Entertainer (National Federation of High School Associations). Cheerleaders bring spirit and excitement to our fans, students, and our players by performing traditional cheers, chants, and dances both on the sidelines and at center field or court.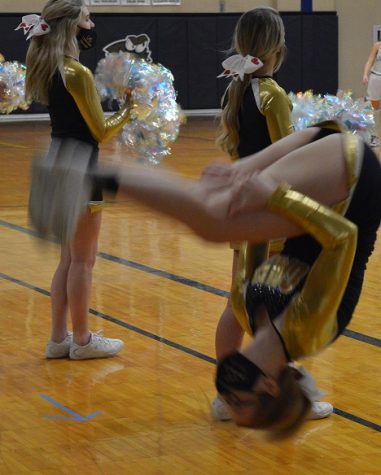 LHS winter cheer coach Lindsey Strittmatter explained that the sport of cheerleading requires athleticism, strength, endurance, teamwork, and enthusiasm. Because of the physical demand in the sport, LHS cheerleaders start preparing for the season in the summer, which takes a lot of resilience, energy, strength, and flexibility.
"They spend many hours conditioning and stretching their bodies in preparation for tumbling, jumping, and dancing.  This act alone takes lots of resilience, energy, strength, and flexibility," Strittmatter said.
Cheerleaders also learn hundreds of different cheers, chants, and multiple dances. Timing, rippling, and visual effects of their formations are improved with practice.  Teamwork is essential to each athlete knowing the material and making their performance look and feel seamless.
"To be able to complete an entire stunt sequence, cheerleaders must be able to lift one another into the air as well as throw one another up and catch them as they fall back down. This can be extremely difficult and dangerous if our team was not physically and mentally strong," Strittmatter said.
Clark reiterated that although the physical aspect of cheerleading is demanding, the emotional and social aspects are beneficial.
"You meet with the high school coaches and begin creating relationships with them. Not only is it so much fun cheerleading, but it's also a great program to be involved in," she said, "You are supporting all the athletes and being a positive light at the high school level.  You get to create amazing relationships with the football team and basketball team and really all the sports in general."
Many cheerleaders are involved in other sports, various activity programs, and leadership positions and they become the recognizable faces of their school. As ambassadors, they should spread school spirit and share positive experiences of being leaders at their school (National Federation of High School Associations).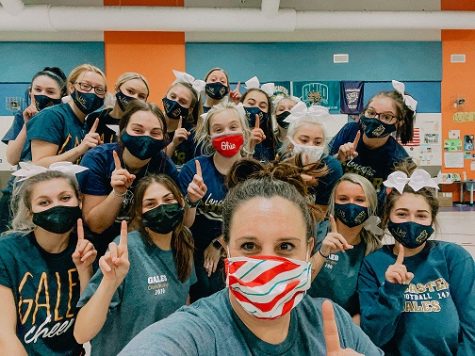 "Being a part of the cheer squad is really special to me, I have made so many memories that I will never forget. The squad has become a family to me and not only the team, but the coaches too," Clark said.
Coach Strittmatter said she has high expectations for the future of LHS cheerleading.
"My hope for Lancaster cheerleading is that we continue to build a community in which we love and respect one another. We hope that we can improve our relationship with our student section to become a force for our football and basketball teams," she said.
The LHS cheer team Instagram is @lhsgalescheer. If interested in trying out for the 2021-2022 football or basketball season, students can register to try out through this link by March 20th.