A Golden Year in Boys' Cross Country
Gales building a legacy of success
The Lancaster High School boys' cross country teams had a banner season placing 11th in the state championship. The Gales opened the season with five straight wins, defeating 21 opponents along the way, including three Ohio top ten teams.
They won their home Bob Reall Invitational, the OCC Buckeye Conference Championship, and Central District 3 championship. The Gales also extended their streak of regional qualifiers to 11 straight years, the third-longest streak in the region, and finished third to advance to the D1 Team State championship for the third time in the last four years.
Runners, Noah Johnson, Kaleb Stull, Kaiden Lanoy, Isaiah Lanoy, Trevor Lanoy, Colton Thress, and Adam Criser were the top seven competing in the state championship. The Lanoy brothers, along with their sister, Kailyn, are perhaps the only group of four siblings to compete in the same state championship, according to head coach, Jeff Koksal.
"As a group, these seven guys ran their most competitive race of the season to finish 11th in the state," said head coach Jeff Koksal.
"As was the case all season, Noah Johnson was our leader, helping lead the team away from the start in a good position to race and finishing with toughness, inspiring other Gales to also finish strong," he said.
Noah Johnson said he and his teammates were successful in the majority of goals that they set for themselves and that he is proud of what they accomplished.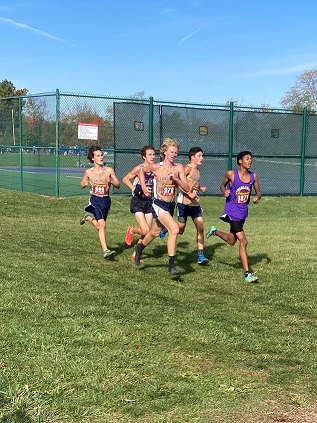 "As leader, I focused on creating and maintaining a successful team culture by demanding the best from myself and the team," he said.
"We have always had the goal of being able to make it to states and compete well. This year we knew we had the talent," he said.
The team did face some challenges this year mostly due to COVID-19 restrictions. The main challenge was keeping the athletes healthy in regards to the contagious virus.
"Attempting to have a normal training regime while maintaining safe distances, performing health checks, and abiding by quarantines was difficult," said assistant coach, Hines.
"We also have a young, gifted team. This brings its own challenges as we attempt to instill hard work ethic and maturity into runners who have naturally excelled in the younger grades," he said.
"Building a sense of pride in the program and helping them to see the potential of building upon Lancaster's strong running history and legacy is important and difficult."
LHS junior, Kaleb Stull said his experience going to state is something he hopes to build on in the future.
"It was my first time going there [to state competition]. My goal next year is to make it to states again and advance from there. I plan on signing off to a college and I plan on having no regrets," he said.
Coach Hines said that the strong freshman and JV squads also provide hope for a bright future for LHS cross country.