Hail to a Truly Golden Gale!
LHS Football Coach Retires After Honorable Career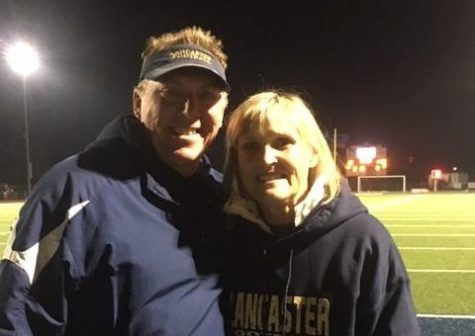 LHS football coach Coach Rob Carpenter will be retiring at the end of this school year. Carpenter has coached for the Golden Gales for more than 23 years. His stellar football career includes playing at the collegiate and NFL levels in addition to coaching high school football.
Football has been a family affair in the Carpenter household for decades. Coach Carpenter married his high school sweetheart, Susie Carpenter, nearly 43 years ago, and their four sons, Bobby, Jon, Georgie, and Nathan, have all been involved in local football and sports.
"My favorite part of coaching the Gales has been my family's involvement," said Carpenter.
In the early years, Coach Carpenter played collegiate football at Miami University. Later, the Carpenter's moved around the country for Carpenter's NFL career. He played for the Houston Oilers, the New York Giants, and the LA Rams. Carpenter played in the National Football League for ten years from 1977 to 1986 and retired from play due to age and injuries.
"I enjoyed every minute of every day in the NFL; I pinched myself every day to make sure it wasn't a dream," said Carpenter.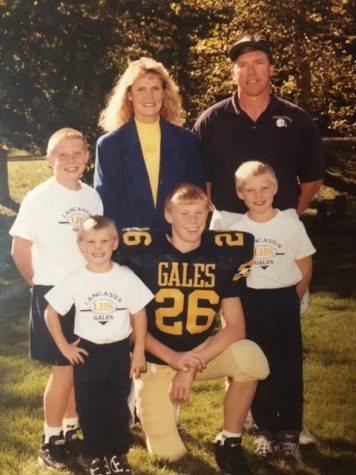 Susie Carpenter said that Coach Carpenter always wanted to come home to the Lancaster community to teach and coach the Gales.
"Family was everything to us and we wanted our children to know their grandparents. Rob always wanted to come back and coach the Gales and teach. It was his dream come true," she said.
Coach Carpenter reflected on his experience as a high school athlete in the 1970s and the coaches who mentored him. He said those coaches led by Earl Jones and John Watson instituted a first-class football program that helped Carpenter acquire his athletic success. He added that coaching high school football was his duty to repay the coaches who guided him.
"I tried to do the same thing and it has brought me great satisfaction and joy," said Carpenter.
He started coaching high school football at New Lexington High School from 1988 – 1991 and then came to Lancaster High School to teach and coach in 1995 as the running back coach on Tom McCurdy's staff. In 1996 and 1997, he volunteered to coach at Thomas Ewing following budget cuts in the district and failed levies. In 1998 he was hired as the head football coach and has held the position for more than two decades.
"Retiring from coaching is sad because of stepping away from all the relationships I've developed from coaches to the parents, from the players to the officials, and the media," said Carpenter.
"I believe that I am the luckiest person in the community. Being able to grow up, live here, and be involved in the system and its football program has been amazing."