Sex, violence, swearing, and emotional lyrics and rhythms appear to be popular music trends. Some students and staff at Lancaster High School said that their tastes in music are leaning toward alternative genres that include explicit language, other languages, and new cultures, as a way to expand their views of reality and life. 
LHS sophomore Ashton Hines began listening to a band who wanted revolution after watching a Netflix movie, Moxie. It's a movie about feminism, protest, and a certain sound by the punk-rock feminist band Bikini Kill caught her ear.
"They sing with passion, love, and anger. Their lyrics focus on real world problems that people deal with every day. We can relate to them," said Hines.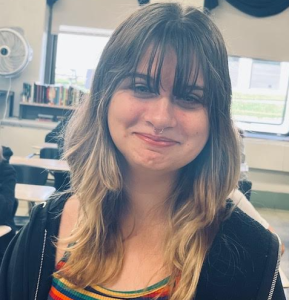 According to their official website, 20 years ago, as one of the most influential bands in the riot grrrl movement, Bikini Kill helped define a movement that grew up as an offshoot of punk in the early 1990s, when many women felt marginalized by society, and in some cases, even by the punk-rock community.
The group uses heavy cursing, passionate topics, and screaming to convey messages about what they've dealt with as women;  harassment, misogyny, and mistreatment as a whole. Their songs are meant to educate and inform but are not considered appropriate for school or children.
"A lot of songs contain lyrics mentioning sex, swearing– it's meant to shock the listener, but that's not what these songs are really about. They're loud, liberating, and deal with deep, heavy topics like women empowerment and smashing the patriarchy," said Hines. 
Alternative rock with distorted guitar sounds is rooted in generational discontent, and changed the rock sound and dominated in the early to mid 90s according to Britannica. 
Some alternative music artists and bands use the "shock value" as a tool to pump up interest in their music, and make strong statements, according to NPR. But not all artists intend for their music to have meaning.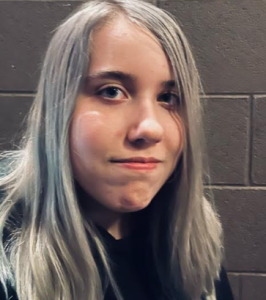 Taylor Randolph, a freshman at LHS, listens to music from all genres, including a subgenre of rock called shock-rock.
"I'd be listening to a song and an artist could be singing about zombies and murder, starting into it, and then about unicorns towards the end," said Randolph.
"It's pretty absurd, but not everything has to have a meaning. Sometimes bands can be vulgar, sexual, and extreme for the heck of it. They step outside of the norm and deviate from other genres. They're different, fun, and teach that it's okay– and honestly– really cool to stand out!" she said.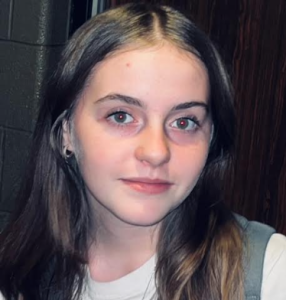 LHS freshman Calysta Stine said she has been diving deep into the lyrics of rap to learn more about hip-hop artists and what they plan to accomplish with their music. 
"If you're a writer, artist, or someone with a big platform, you can use songs to do good. By passionately putting out your feelings and opinions through art, you can influence others, or help them learn– that's what art is all about. I've seen a lot of musicians rap about the discrimination they've faced– racism, attacks, assault.  And we can learn from that. Hearing about the bad can expand our mindset to treat people better," said Stine.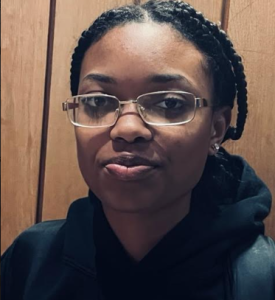 LHS freshman Perfect Ford-Owns said that instrumentals is a genre that she has enjoyed.
"I'm not always listening to music with lyrics, and it still has an impact," she said.
"There's something about jazz– it's so relaxing and beautiful. It's a genre that's not talked about enough: from its soft overtones to the smooth rhythms, to the complex calming drum beats. Jazz was made to inspire and relax. It doesn't even always need lyrics, because the music itself tells a story," Ford-Owens said.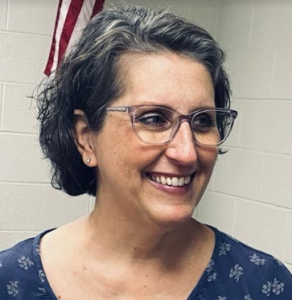 LHS Spanish teacher, Cristina Falvo often plays tunes from other cultures, countries, and languages as an alternative to mainstream music genres. She recommends Ricky Martin, Marc Anthony, Luis Fonsi, Maluma, and Becky G.  Last month, NPR featured Becky G in their Tiny Desk Concert. Click on the link to hear it.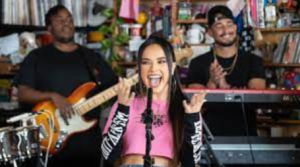 "I listen to many artists who come from different backgrounds, originating from Latin America– sometimes in class, sometimes just at home. I encourage my students to as well," said Falvo.
"We can have a stronger connection to how others speak. The music gives you a window into that person and reflects what they find important.  It can be truly mind-opening."