Remembering Lancaster's Black History
Allen Chapel unveils historic plaque
The unveiling of a historical sign at 154-year-old Allen Chapel in Lancaster recently coincided with the celebration of Black History Month. This plaque illustrates the history of Allen Chapel and its founder. A sermon, history lesson, and gifts were done before the presentation of the new plaque, which stands next to the Allen Chapel.
 Local dignitaries and church members mingled with local citizens who took part in the event. The church was established in the early 1800s by a former slave, Scipio Smith, for the Black citizens of Lancaster. It holds services to this day, although now the congregation is very diverse.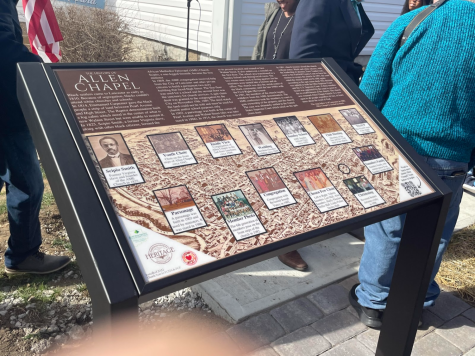 Michael Johnson, Marketing Director, Fairfield County Heritage Association conducted research on Scipio Smith and his impact on the early Black community in  Lancaster. 
"I began researching a man called Scipio Smith several years ago, and I read a description about the first black businessman in Lancaster who stood six-foot-four, had a booming voice, and walked with a wooden leg, So of course I was intrigued by that," Johnson said. 
"I was able to uncover one of the most amazing documents I had ever seen, Scipio Smith's  Emancipation Document. It included the date he was set free and information that you rarely see when it comes to slaves including his birthdate and his mother's name," said Johnson.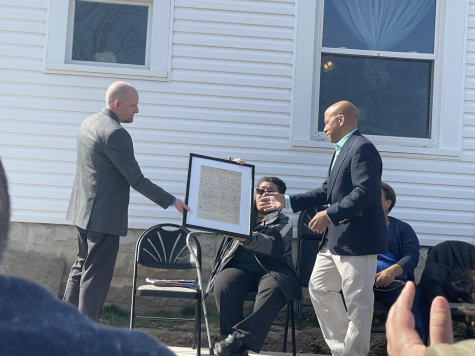 Hollie Saunders, the pastor's sister and author of Through My Eyes: A History of Lancaster from a Black Perspective, explained how Scipio Smith founded the Allen Chapel A.M.E. Church. 
"The Carpenters gave the blacks this area of land in 1810, but until 1825 there was a log cabin that was actually used as the congregation. Scipio Smith heard about the African Methodist Episcopal Church conference that had just started in Philadelphia and he looked into it and thought it would be a good fit. Scipio Smith studied to become a pastor and started the Allen Chapel A.M.E Church" Saunders said. 
Saunders said the church brings special memories of her family.
"This is all because of Mom and Dad. I feel her and Dad here today; I feel our ancestors." 
In an interview with CLN – Your Hometown Connection, Pastor Saunders explained that during segregation,  Blacks often secretly hid in the church to avoid racist violence. He said that the new sign at the church is a Godsend because today church-goers of all denominations and races can sing, worship, and dance together. The unveiling of the new sign during Black History Month honors the place that was once the cornerstone of the Black community in Lancaster.
 "I would love it if Black history were woven and intertwined with local history so tightly that people wouldn't feel the need for this month, not that the community doesn't appreciate the shortest month of the year," said Johnson.