Young and Capable
LHS wrestling wins OCC & sends three to state
Lancaster's wrestling team has asserted itself as a prominent force in local high-school-level wrestling. This year's composition of varsity athletes was a little younger, but they nonetheless exhibited great talent as they won their ninth consecutive OCC championship with an impressive 51-19 victory. Three promising wrestlers also qualified for the state tournament where they did not perform as well as they had hoped, but, nonetheless, gave it their all and gained valuable experience.
Head coach Dugan Bentley remarked on the newness of some of his varsity wrestlers.
"We are very balanced in terms of senior leaders but we are a young team. There have been challenges with immaturity."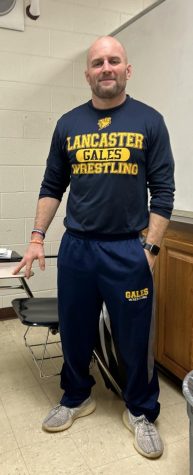 Bentley, however, applauded the young athletes for their wrestling itself and is confident in their growth as they continue wrestling in their high school careers.
"I've been really impressed with their abilities," Bentley praised.
Much of the coach's confidence in his younger athletes comes from strong senior leaders. Sophomore Luke Cox commented on the impactfulness of the seniors on his team.
"I've learned so much from my senior teammates even outside of wrestling. The mentorship they have lifts up everyone in the room. They've done so much to help me with my athletic career whether that's staying after practice or keeping my head up after a tough loss. They always find a way to push me and make me better," he complimented.
The team's success this season can be attributed to the team environment and strong work ethic. 
"Everyone in this wrestling room looks out for one another. We have wrestlers going out of their way to pick up individuals who don't have a ride in the morning to lift or make it to practice," said Cox. 
"People know Lancaster means business and it's due to our coaches and our wrestlers that are willing to work."
Cox expressed his pride in his teammates, adamant that they shouldn't feel discouraged after their performance at the state tournament.
"I know that they didn't wrestle as well as they wanted but the most impressive thing is how they persevered. They never gave up," Cox applauded.
Senior Toby Hutsler lost his opening state match, however, he bounced back with a 4-1 victory, displaying the persistent nature that Cox praised.
Hutsler shared his experience as a senior role model to the younger varsity players.
"They're really great guys and I'm glad that they were able to rely on me as a mentor. I learned very valuable lessons about teamwork and strength – both inside and physically." Hutsler said.