Bonds Worth a Lifetime
The benefits of multi-generations living together
A close relationship between grandparents and their grandchildren may actually improve emotional well-being for all. According to Stanford Medical, research suggests that when grandparents are involved with their grandchildren, even from a distance, all generations are often much happier. Moreover, a recent NPR broadcast reported that one in five Americans now live in the same household with their parents, grandparents, or adult children ("Why more Americans are choosing to live in multigenerational housing").
Ron Lowry, a long-term substitute teacher in Lancaster City Schools shares a home with three generations of family. He said the experience has helped him build a strong relationship with his grandchildren despite the fact that their age differences are fifty years or more.
"I've always said that grandchildren are God's way of giving us a second chance to make up for all the mistakes we made the first time around with our children. I was raised in a family that had very close ties and have now had the opportunity to pass that down to my children and grandchildren. There is nothing we would not do for one another," he said.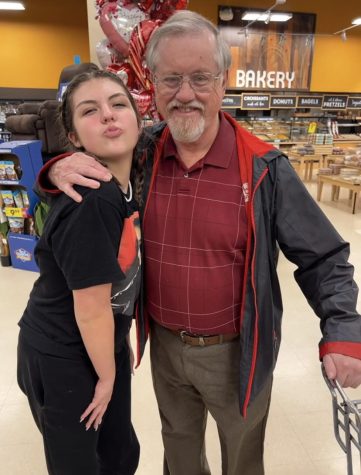 LHS freshman, Jessica Dozier, Lowry's granddaughter, said that her grandfather drives her to school every day. She said he is an important figure in her life, especially because they have lived together for most of her life.
"He has been in my life for as long as I can remember. My Grandpa and I help each other every day. Every weekend I clean my grandparent's room and bathroom for them and sometimes he makes me breakfast before school. He always helps me with schoolwork if I ever have any questions about it. We all help each other so much just with some little things every day," said Dozier.
Research suggests that a child has fewer emotional problems and better educational achievements if they have an engaged grandparent. In the article, "Could the grandma-grandchild bond be the best of them all?" published in The Guardian, author Eva Wiseman stated that every year grandparents and grandchildren share increases a grandchild's likelihood of completing secondary education by, on average, one percentage point.
Furthermore, friends of Dozier's have also gotten to know her grandparents and some call him grandpa. By observing Dozier with her extended family, LHS freshman, Sara Van Dyke, learned how the relationships between generations can be very meaningful.
"I admire how sweet they both are toward each other and how close their relationship with each other is. I know that I myself do not have as close a relationship with my grandparents as she does. I remember when I first went to her house and I met her grandparents, I felt so welcome and humble being around them. They have officially started calling me one of their own and that makes me feel so special," said Van Dyke.
Like Dozier, LHS sophomore Molly Herington lived with her great-grandfather from the time she was six months old. She said she remembers him being there for her as she was growing up and has fond memories of them playing together.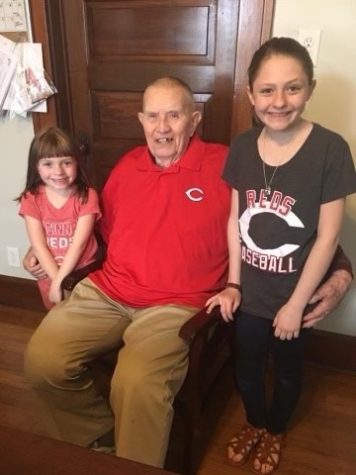 "I would always play school with him. He was my straight-A student. Although I wanted him to get some questions wrong here and there so my job as a teacher wasn't so boring. He was my best friend," said Herington.
"I'm so grateful to have lived with him and I'm thankful for the privilege. Not every kid gets a chance to live with their great-grandpa let alone their grandpa. So soak in every moment you cherish with them," stated Herington.
Dozier and Lowry echo Heringon's sentiments.
"If you don't have a good relationship with your grandparents, I would suggest to try and connect with them, call them and try to talk to them because you'll never know when it'll be too late," said Dozier.
"I do know that I consider our relationship a blessing from God, and I would wish that same blessing on every other family," said Lowry.
Van Dyke, too, said that recently she has felt a stronger bond with her own grandparents.
"Over the course of a year, I have been living with my grandparents and my mom and I have noticed I am getting closer to them and I am so thankful for that. I think it is very important to spend time with your grandparents whenever you can because you never know when they might be gone," she said.