Gales Take the Wheel
Future plans for drivers education at LHS
Lancaster High School administration is paving the way to bring a driver's education back into its program in 2024.  The online program will be self-paced and will be introduced through scheduled online courses. One major benefit to students is that the LHS driver's program may cost less for students compared to private driving schools.
"Our goal is to remove any possible barriers that withhold students from getting the driver's education they need due to their financial situation or lack of transportation," said Steve Spangler, the Director of Secondary Education.
Students will also get the typical opportunities to drive with a professional driving instructor before taking their driver's education exam at the Department of Motor Vehicles. 
"Each student will have a maximum of two-hour sessions for a total of eight hours. After they complete those eight hours, they will be able to take their Drivers Ed exam," stated Spangler.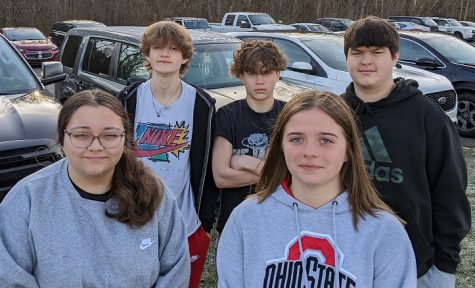 Some LHS freshmen who may qualify for the new program reacted positively to the news.
"Students could learn how to drive so they could get a better education about driving and get ready to get their license," said Jacob Cox.
"I think it would be an easier and inexpensive way to get the education they need to drive. It wouldn't take time out of your day after school and give kids that don't have the funds to take the class," said Russell Brown.
Appie Stoneburner said that the school atmosphere is conducive to learning how to drive.
"One of the benefits of having driver's ed here is teaching kids to be adults and what could be better than having your teachers do that? It teaches you to be safe and respect other people," she said.
Both Travis Lindsey and Keira Fisher said an in-school driver's ed program would be convenient for students and parents.
"I think a drivers education program here would be really cool because it would be easier for students whose parents aren't willing to teach them or bring them to the DMV and it might even cost less," said Lindsey.
"A benefit to having it be part of the curriculum would be time management. We
wouldn't have to go to an outside company, and you might end up learning to drive with someone you know and trust," said Fisher.
According to Spangler, the proposed drivers' education program is possible through an arrangement with the Fairfield community commissioners and Hocking College who will hire the appropriate teachers for the program.
"Although certain grant offers were turned down, we are currently looking to apply for more. Our hope is to bring Driver's Education back to the school and create a much more affordable and convenient option for students and families," voiced Spangler.
One reason to incorporate the drivers education program into the LHS curriculum is the lack of transportation for students who want to have a job and work.
"The problem is the delay in students venturing out into potential career opportunities since they are not provided with transportation. As a community, we are finding this to be a limiting factor for adult employment and we believe by increasing opportunities in high school we can potentially eliminate future obstacles," stated Spangler.
Caroline Davis, the LHS Career Technical Director said that a drivers' education program at Lancaster High School would benefit students in many ways.
"With the addition of a Driver's Ed program for LHS students, this definitely removes one of the most common barriers for CT students being able to do Early Work Release, internships, and other Work-based Learning opportunities. This would give CT Students a better chance to start their careers sooner and get valuable industry experience," said Davis.
"I think it's a wonderful idea due to the fact that it is something we are introducing for the sole benefit of our kids, so I think we should try to see if it will succeed, which I hope it does," voiced teacher Blake Evans.
Bruce Evans, a Financial Literacy teacher at LHS, also shared his thoughts on the topic.
"Seeing students not being able to drive keeps them from venturing out to do the things that will bring opportunity to their lives. I feel bad for them, not being able to have the same opportunities as everyone else just because they don't have the means to receive their license," said Evans.