Lady Gales Follow Through
LHS Girls' Basketball takes on another season
The LHS Varsity Girls' basketball team experienced a fair amount of success and battles in their season this year. Their motivation has been tested, tried, and fought to be upheld. Varsity head coach, Dusty Miller, talked about the highs and lows of the season including a special trip the team took out of state to South Carolina to watch college basketball.
"The main highlight was hosting a tourney game and getting the win for our program. The girls also were given an opportunity to watch Charleston College women's practice. The most exciting thing we did in South Carolina was watching the University of South Carolina women's play Texas A&M. We witnessed the number one team in the country playing basketball." he said.
Miller also talked about the struggles that came in the season.
"At times, I believe some of our struggles were the willingness to go hard every day and embrace the journey that goes along with that. Basketball is a long season," stated Miller.
Miller also discussed the Lady Gales Basketball 300 Club and the rewards of the club.
"It is often said that teams are made during the "in" season while players are made in the "off" season. It is with this premise that we have the Lady Gales Basketball 300-Hour Club. The goal of the 300-Hour Club is for players to document over 300 hours of basketball-related activities during the off-season. Girls will get rewarded for the work they put in. Our main focus is "No deposit, No return," answered Miller.
Coach Thomas Stedman discussed his highlights of South Carolina and some state teams they played against.
"Highlights of the season include a 1st round tournament win at home, and our trip to Charleston, South Carolina," stated Stedman. We played three games in Charleston against teams from Pennsylvania, Tennessee, and South Carolina. Our trip included a trip to the beach (but it was only 40 degrees that day!) and going to the South Carolina versus Texas A&M Women's Basketball game in Columbia," Stedman said.
Stedman talked about some of the challenges he believed the team struggled to overcome.
"The challenge was and is, how can we consistently work at basketball every day, knowing that the margin of error between success and failure is extremely small. We have to understand that everything matters…our practice focus, our practice effort, and our practice attention to detail will determine our success during the season. With our record being 11-13, being consistent every day was a challenge for us," he said.
Stedman lastly talked about how they could improve as a team on and off the court.
"It's a feeling of disappointment when a practice, a game, a team activity, or a season ends because you are no longer together. Are we at that championship level of close-knit team dynamics for Lady Gales Basketball? No, but if we can achieve this level of team dynamic, then our possibilities as a team are unlimited," Stedman stated.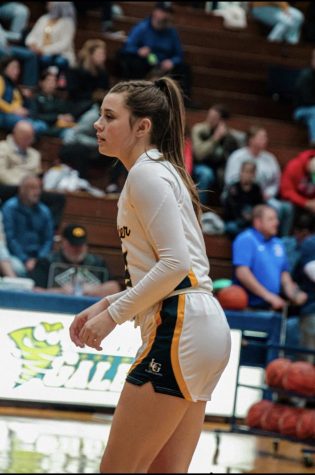 LHS junior, Chandler Crowell, shared her perspective on the season and said that despite having a rough season, the team stayed together to support each other.
"This year was a rough season for everybody, but we still stayed together as a team. I think that the one thing we need to work on and improve is our connections with one another in order to benefit each other on the court," she said.
"I also think that we need to not let others' actions and opinions of us get in the way of pursuing the game. We stayed in our heads a lot this season and that definitely reflected our actions in our games," Crowell voiced.
Crowell talked about how one of her coaches helped her, as well as the team, improve."Stedman kept our confidence up and taught us to get out of our heads by letting any of our thoughts go when we step on the court," said Crowell.
Crowell talked about her athletic growth after taking the trip to South Carolina.
"In South Carolina, I played the first half and played the best game I ever have. My true and deepest potential has grown a lot since then," stated Crowell.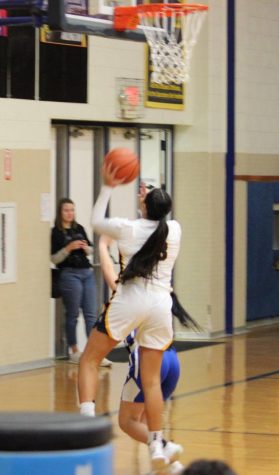 LHS junior, Jenna Grabans, talked about what she cherished most about the season.
"Our season this year was one that I'll remember. I enjoyed strengthening old friendships and making new ones. It will be one that I'll cherish for years to come," said Grabans.
Grabans also talked about what she has learned from her fellow teammates and coaches.
"Some things that I've taken away from the coaches and senior athletes this year is perseverance. Peyton and Avery left some big shoes to fill on the team. They are amazing teammates, leaders, and athletes and will be something our team will miss," voiced Grabans.
Grabans lastly talked about her goals for next season as a senior athlete.
"I'm looking forward to most as a senior athlete. Our team growing closer and getting better together next season, and making it even further in the postseason tournament. My goal this season is to make an impact on the Lady Gales girls' basketball program and to be an example to the younger girls on and off the court," stated Grabans.