Spirit on the Sidelines
The 2022-2023 Gales Varsity cheerleaders had a very long but successful season cheering for the LHS football and basketball teams. They strive every single game to show support for all of the athletes and to inspire school pride and spirit. Being a cheerleader involves hard work and determination. Like any athlete, they attend required practices, perform at games, and condition in the off-season. They have to maintain a required grade point average, too.
Although the Ohio High School Athletic Association does not recognize cheerleading as a sanctioned sport, at LHS, the cheerleaders are officially athletes.
"Cheerleaders are considered athletes and are awarded Varsity letters. Our cheerleaders are held to the same requirements and standards as athletes on any other high school athletic team," said Pam Bosser, LHS Athletic Director.
Moreover, the U.S.A. Federation for Sport Cheering and the governing body for Sport Cheering in the United States supports the argument that cheerleading is a sport.
"School Cheer is a discipline of cheer that involves athletes in a scholastic setting who cheer in support of other sports, most often football and basketball. School cheerleaders' primary role is supporting the other athletic programs through leading the crowd at games and pep rallies as well as promoting school spirit overall."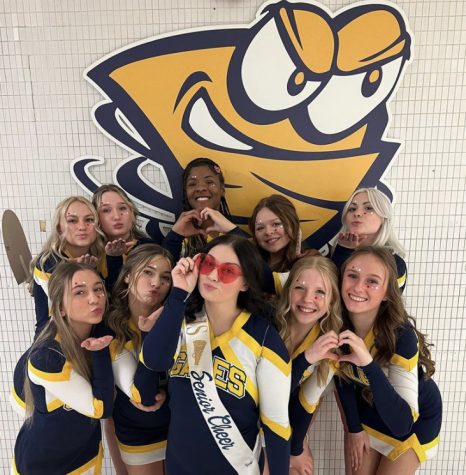 LHS senior Carmen Hoskins finished her last and final year as a cheerleader. Hoskins is a four-year cheerleader and has made a significant impact on the team.
"I will definitely miss being with the girls pretty much every day at practices and games. They have made it so fun with all the jokes, laughs, and sometimes tears. They have made my high school experience so fun and definitely have become good friends of mine," says Hoskins.
Hoskins, the only senior on the team, said that this season was very memorable for her.
"Highlights of my season definitely have to be both of my senior nights, not only did my family make me feel special but so did the girls and especially the coaches. Another thing I have loved is the tournament games, it just adds a little more fun to our season and makes us closer with our very eventful bus rides and just the thrill of watching our boys play their hardest," Hoskins said.
Lindsay Strittmatter is the varsity cheer coach for LHS. She appreciates all the hard work and dedication the girls put into each and every season and is hoping to continue to grow their program to make the girls even more successful.
"I have been coaching for sixteen years at LHS. I love being involved in Lancaster City Schools athletics. I love meeting all of the athletes, their families, and making a difference. I love the connections and bonds that I create with my athletes. I love seeing the students grow throughout the years, especially when I had them in my kindergarten classroom," Strittmatter said.
Like any team, the cheerleaders face many challenges throughout the season. But making unforgettable memories and experiences with teammates and coaches are some of the most meaningful aspects of being on the cheer team.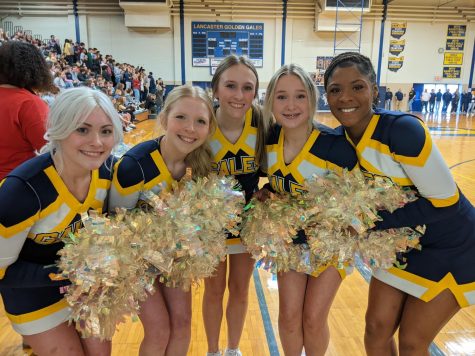 "We love our bus rides together. We always seem to have a great time making memories and singing with each other. We had a lot of fun preparing our routine for the winter pep rally," recalled Stittmatter.
"The girls collaborated with a cheer team out in California which was pretty exciting. The cheerleaders put in a lot of extra time and work learning and preparing for their performance. We loved the crowd's reaction to our routine. It was so much fun!" she said.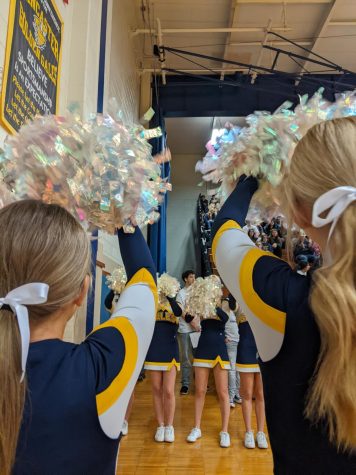 Zoie Hopper, a junior on the varsity team, said she is already looking ahead in the future and plans to up her game by achieving more during her senior year.
"My goals for the next football and basketball seasons are to learn more tumbling skills and hope we make it far in the playoffs or tournaments," Hopper said.
Goal setting is important to improve as an athlete, and being able to learn from upperclassmen and coaches is an asset.
"From my senior teammate I have learned not to quit when things get hard and from my coach, I've learned to truly enjoy my time as a Gale cheerleader because these games will become some of my best memories," Hopper said.