Going the Distance
LHS boys' take OCC and third place at state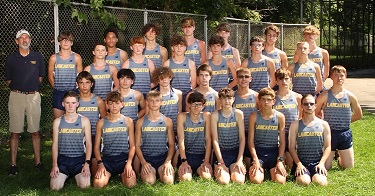 The Lancaster high school boys cross country team had a season to remember, winning the OCC championship and finishing 3rd in the state. The top three runners were  Colton Thress, Kaiden Lanoy,and Isaiah Lanoy.  The team had a perfect record going into the state competition where they lost to two teams.  Head coach Jeff Koksal said it was their goal and purpose to win.
 "Given the strength of our team, we expected to win the OCC title.  But it was still awesome to see the way all of our guys competed and performed on race day.  Many of the guys ran their best races of the season to that point at the OCC Championship. We were very proud of all the guys," he said.
Taking third place at the state level wasn't what they were hoping for, Koksal said the team was ultimately successful.
"Although we did not have a perfect day, we won the District Championship and moved on to the Regional.  Our performance in the Regional was outstanding, our best race of the season (to that point) and after winning the Regional, the Gales were ranked second in the State and we knew we could compete for a State Championship.  Although we fell short of winning the championship, our third place finish was the highest for the Gales since 1990 and we are proud of our effort on a tough day".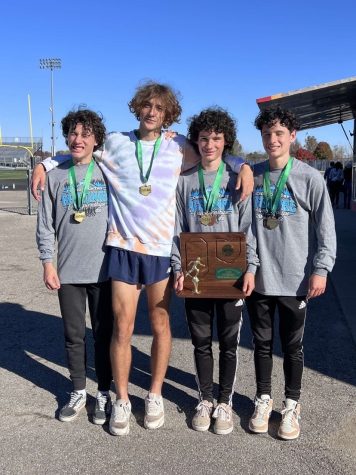 Some of the LHS cross country athletes said going to the state championship was something they will never forget.
"I feel like we definitely deserved it and our coaches always knew that we had it in us but we had to make them proud," said Isaiah Lanoy.
"Before I ran the state meet my thoughts about it was, this is my last year so I have to place to become All-Ohio. So I ran my hardest and my best race that I have ever ran at the state meet. Now I'm All-Ohio," said Lanoy.
"I was calm coming into the race for the state meet. I had a great feeling about the race and I believed in my team. We showed up just like we do every race. We fell short this year and I didn't do my best, but my team was there for me. We have a special team. We don't care about winning, we do it for the experience and just to have fun with your best friends," said senior runner Colton Thress.
The senior athletes who finish up their last season as a Golden Gale usually share a special memory about their high school athletic career but Thress said he couldn't possibly single out only one memory.
"I do not have a favorite XC memory because everyday gets better and better. This team is perfect and it wouldn't be the same without any of them. Just being able to run and see my best friends compete and do things no one else would ever want to do, that is amazing. Seeing my friends accomplish their goals is all I need," he said. 
Lanoy on the other hand shared his thoughts on his last season and before going into the state meet.
"I knew it was my last year before I started the race so I told myself that I had to go out on that course and give it my all like it was my last race. And I couldn't let my team or coaches down," Lanoy said.
Coach Koksal summed up his take on the season.
"Every runner contributes to the team's success in important ways.  The team performs best when each guy strives to improve, pushes his teammates, and holds them accountable. As each runner improves, they challenge and inspire the other runners. As the runners continue to improve they challenge for higher ranks within the team," he said.
Championships aside, the coach stressed that cross country poses a challenge to help students grow.
"Fostering a culture and training environment that helps a diverse group of runners, with a wide range of abilities, develop as athletes and good human beings."