"Fore" Lead The Way
LHS boys' golf seniors finish final round
The Gales finished in second place in the Ohio Capital Conference Buckeye division recently. The four seniors Riley Senften, Parker Cohen, Jay Niceswanger, and Josiah Lauderbaugh guided the Gales all season long. In the second round of OCC's, the Lancaster boy's golf team shot a season-low 331 at the Denison golf course. Senften led the Gales with a 79. Cohen and Niceswanger shot 83's, followed by Lauderbaugh with an 86, and Gabe Betts with a 91. Senften, Niceswanger, and Cohen all earned 2nd Team All OCC honors.
Senior Riley Senften had a season that will go down in the Lancaster history books. Senften shot a 71, 1-under par at the Golf Club in Dublin.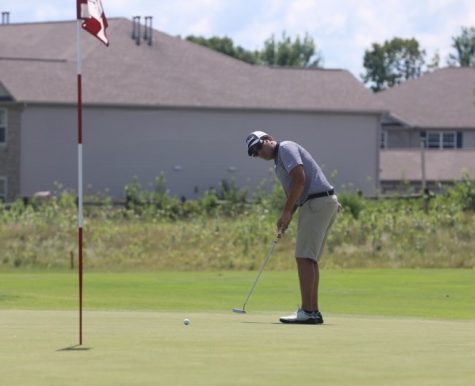 That was the first time Coach Truex had an athlete shoot under par.
"The accomplishments that I have made on the golf course have honestly surprised me. If you told me at the beginning of my freshman year that I would have been a four-year varsity letterman, get Honorable Mention, and be a two-time 2nd Team All OCC winner, I'd think you were crazy," Senften said.
Senften credits his teammates for his success.  Through the good and bad days, they always have each other's backs.
"I'm just happy to be able to share the experience with my team. It's amazing being able to support one another, congratulate one another, or pick each other up if it's needed. I feel confident in saying that's exactly what we've done thus far," Senften said.
Coach Truex pointed out Cohen's hole-in-one as one of the season's highlights. He said he admired the strong camaraderie among the athletes.
"Our team is really close and they love cheering for each other.  They really want each other to do well," Truex said.
The Gales traveled to many impressive courses this past season. Senior Parker Cohen said he enjoyed every moment of his last year golfing for LHS.
"The highlights of the year so far are definitely the van rides and playing nice courses we would not have had the opportunity to play otherwise," Cohen said.
The Gales fought through some struggles as well, including a lack of experience.
"With only two players who had a lot of varsity experience, we've had some ups and downs to start the year, but have had some great team rounds and individual rounds," Truex said.
According to senior Jay Niceswanger, the Gale's ability to refocus and demonstrate uniformity through the season added to their success on the green.
"What's been most challenging is consistency as a team. We've had some really great team scores but we've also had some really bad ones. If we could narrow our rounds to a more consistent level, we are in a great spot," Niceswanger said.
Most athletes dealt with a rough patch somewhere throughout the season. Cohen expressed those difficulties.
"Golf is very challenging on the mental side so when we do not play to these standards, we get in a slump and it makes it hard to not give up," Cohen said.
The golf course was a healthy positive environment for the four LHS seniors. Josiah Lauderbaugh said he will never forget his high school golf experience.
"What I'll miss most about the high school athletic experience is just being able to go out and have a fun time every day with the guys.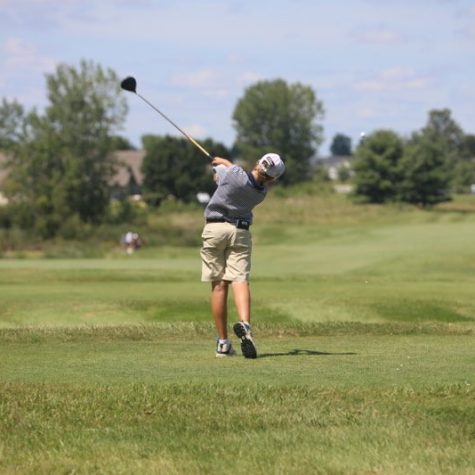 It doesn't matter what else is going on, once we're on the course, we always have fun," Lauderbaugh said.
Freshman Gabe Betts was welcomed with open arms by the seniors. Betts fit right in with the culture of the team.
"Being a freshman among four seniors I admit was a little intimidated at the very beginning of the year, but they are all such great people, so the intimidation did not last long at all," Betts said.
The returning golfers plan to continue to make improvements and build on this year's successes.
"Our goal every year is to grow daily and we will continue to work towards competing for league titles moving forward," Truex said.