Setting New Standards
LHS bowlers raise the record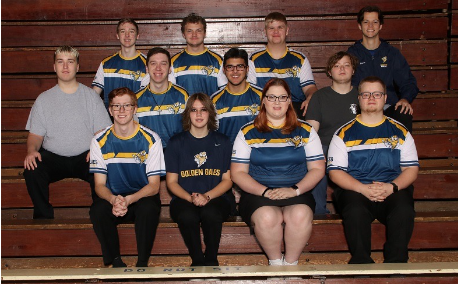 The LHS Boys' Bowling team placed 14th in their conference at the end of their season having lost some very close competitions. The team also set a new team high game record at 1131 against Westerville South and all varsity boys' went into district competition. The Girls' team were down a couple of players consistently this year and struggled to get some footing, although Eve Darfus advanced to the district as an individual.  In addition, head coach Wendy Russell said the Boys' team had two standout bowlers this season.
"Bryce Kale and Drew Scott were out high averages throughout the year all the way to the very end. Bryce only missed qualifying for state by eighteen pins," she said.
LHS junior Tyler Olson said the head coach Wendy Russell has taught the team a lot about self-confidence, perseverance, teamwork, and sportsmanship. 
"I learned from Coach Wendy to relax and have confidence when you do something. If you do not believe that you can not do something, then the chances of success are far from reach," said Olson.
The teams are able to come together and celebrate highlights that they never expected to achieve.
A favorable highlight of this season was definitely breaking the school record. The other team was also doing well so we needed to step up and do what needed to be done," said Olson.
Senior Eve Darfus was able to meet multiple goals and create memorable highlights throughout her last season as a bowler for the Gales.
"Being the anchor of my team, beating my highest series from when I was a junior of 412 to now 497 as a senior, and reaching my goal of continuing onto Districts were some of the highlights I experienced this season," said Darfus. 
Senior Jack Kempton's highlight of the season was spending time with the team and forming bonds.
"My senior year has been amazing. Wasn't the best on the lanes but the memories with the team are unforgettable. My teammates have taught me how to keep myself up and what it's like for someone to have my back," said Kempton.
Though the team had great success this season, there were also problems they had to overcome and times where they had to learn to trust each other.
The most challenging thing the team faced this year was COVID-19. Multiple positive tests and quarantine prohibited the team from competing in tournaments. 
"My team had a lot of challenges during the season. The worst thing that we faced was that we ended our season with three girls instead of five," said Darfus.
Coach Russell said the team was going to be working on different things towards next season. 
"The team needs to encourage underclassmen girls to give bowling a try. The players also need to strive to advance junior varsity boys' bowlers to the varsity level since we lost all but one current varsity player this season," said Russell. 
Olson said his goal next season is to have the highest team average and to successfully fix things that hold him back including his mental game. 
"My biggest goal overall, is to not miss the bus for districts next season. Hopefully," said Olson. 
As the senior players end their last season, they begin to think about memories that the team has brought them and plans for the future.
Darfus says she will miss her friends and family she made at LHS the most.
"The thing I would miss most about my team is the family that I was able to make over the last three years. The girls that were on the team became some of my closest friends and our friendship is something that I will hold close to me for the rest of my athletic career," said Darfus.
Kempton said he plans to attend college next year and wants to join the bowling team if the college of his choice has one. 
"We have truly formed an interesting bond with one another, everybody has their own piece of the puzzle that comes together and forms this team," said Olson.