A Rebound for Lady Gales
LHS Girls' Varsity make a comeback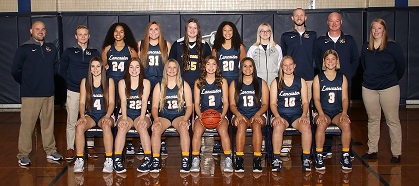 Lancaster City High Schools Girls' Varsity Basketball team has had an incredible season compared to their last. The team won only six games in the 2020-2021 season, but this year they made great improvement by winning a total of eleven games. Coach Dusty Miller commented that the girls have shown a lot of growth and several achieved distinctions within the Ohio Capital Conference.
"Jenna Grabans – 1st team OCC, 1st team all District, 1st team all County, honorable mention to all central district. Peyton Wilson- 2nd team all OCC, 2nd team all District. Kara Weaver- Special mention all OCC, Honorable mention All-District. Kylan Pugh- Honorable mention all OCC. Rylee Patrick- Scholar-Athlete all OCC," listed Miller.
"The highlights of the season is when we went six-one starting out. Also watching all the players improve throughout the year," stated Miller.
LHS junior Kara Weaver reflected on the season. 
"The season went really well. We improved a lot as a team from the previous year and grew relationally and skillfully," stated Weaver.
Weaver said that part of the team's success was due to good leadership by the only senior on the team.
"Rylee Patrick was our only senior and she really accepted her role and was always a positive light to the entire team no matter the circumstance," she said.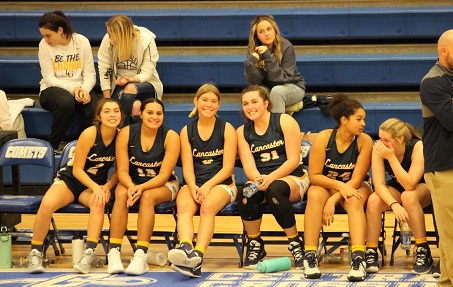 Junior Peyton Wilson explained that she thought the Lady Gales strongly improved since their game against Newark at the start of the competition. 
"Since that game was towards the beginning of the season we knew we were going to have a better season than we imagined and went into every game with the right mindset," Wilson said.
That is not to say that the Lady Gales didn't have challenging moments throughout their season, mostly due to the pandemic.
"Honestly if I can think of a word it would be consistent. We went through a lot of adversity throughout the year with being shut down from a covid outbreak within our program," he said.
"We were shut down for eleven days because of this. I believe this really hurt us during the middle of the season. We also had a varsity player out for almost the entire month because of COVID," said Miller.
The team didn't let this stop them and continued working even harder to make sure they saw the season through. Both Coach Miller and Wilson said they are encouraged about next season and already have a plan that will help the team continue to progress.
"Our program will be working on the little things. Working hard and committing to making themselves better basketball players for the program. By being in the gym, we will form a tight group that will perform better next season," said Miller. 
"Some goals I have for our team next year are to push ourselves out of our comfort zone just a little bit further. I think we will be capable of much more next year," said Wilson.