LHS Soccer is Kickin' It
Lady Gales soccer team brought the thunder this season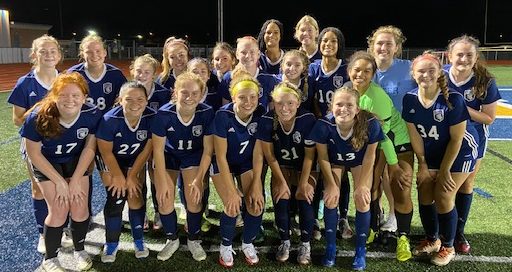 The Lancaster High School girls soccer team finished with by breaking records for the first time in several years and placing the highest that a Lancaster team has ever finished in the OCC. These girls had a packed season. Overall, the Lady Gales record was nine wins, six losses, and tied two games during the season and earned second place in the OCC-Buckeye Division.
"The season was very successful. Wins and losses aside, we developed as players, coaches and people. When confronted with adversity, we were able to take a breath and adjust to the situation. What is taken from sports should be able to be applied to everyday life. That is a truer measure of success," said head coach Brian Griffin.
In addition to their great team achievement, several athletes stood out.
"Olivia George was our leading goal scorer. Our offensive leaders were Olivia, Carmen Morris, Lily Palmer, and Kara Weaver. They worked for each other and created a majority of our goals. Our defense was led by Maddie Green, who was a four-year starter. Maddie brought a wealth of experience and steadiness to our defense. She is always calm and collected," stated assistant coach, Kent Conklin.
"Sophia Martin and Avery Westbrooks did an outstanding job in goal for us this year. They produced many big saves. Emmalee Do and Peyton Wilson deserve a lot of credit for their behind-the-scenes work," he said.
Sophomore Elena White and senior Carmen Morris dressed up in ninja gear at one of the games in which the Lady Gales were dominating.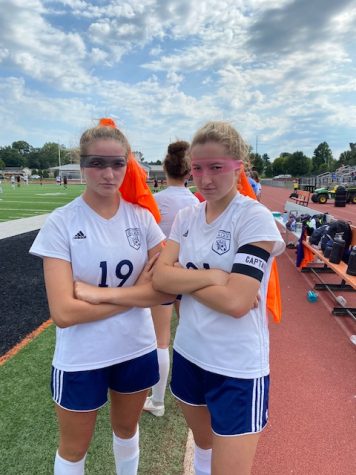 "Our team was winning by so much that the coach took us out so the other girls could go in. So Carmen and I took this opportunity to mess around and decided to get dressed in our teenage mutant ninja gear to cheer on the team," said White.
Morris said this season has meant a lot to her and she will miss playing high school soccer.
"I'm pretty sad about it being my last year of high school soccer because I loved the atmosphere at soccer and I've really enjoyed getting to play soccer with some of my best friends," said Morris.
The team came across many obstacles but pushed to overcome the challenges and worked on their team dynamics to persevere.
"The biggest challenge this team faced was making the girls soccer program and our culture what we wanted it to be. COVID and previous teams have had a negative effect on girls soccer," Conklin said.
The coaches play a huge role in affecting the way the team plays every game.
"Coaching means having a positive influence on the lives of players and watching them transfer what was learned in sport to life outside of soccer is a great reward," said Griffin.
Conklin looks forward to the next season.
"The challenge for the next team is to keep things headed in the right direction. We will need to continue to learn about each other," said Conklin.