The Test of Time
Tenured teachers reflect on long careers
Bruce Gerken and Doug Moos are the two longest-tenured teachers at Lancaster High School. Mr. Gerken has been teaching for 44 years and is the percussion instructor. Mr. Moos is currently in his 39th year as a teacher and is the LHS manufacturing and welding teacher. Their experiences are a culmination of forming positive relationships with their students and contributing to their academic and personal growth.
                                                                                                 Bruce Gerken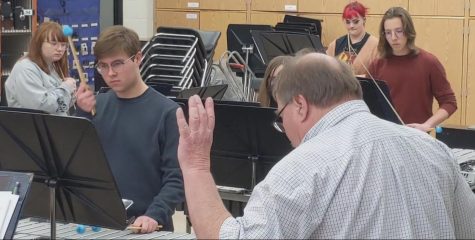 Mr. Gerken has enjoyed watching his students mature over the years. He has worked with many of his students since they were in Elementary school.
"Most of the students that I have I started in the fifth or sixth grade. During this time you see a maturing process and development which usually is quite amazing."
His students have made some special achievements as well. Some have even earned various awards.
"Several have earned their doctorates, are published composers, teach at universities around the United States, work in public schools such as I do, and have distinguished themselves in many areas of their profession."
Gerken has built a supporting bond between his students and their families. He helps his students reach their full potential.
"Supportive of their future goals and to help them in achieving their goals. You also develop a relationship with the entire family as they become involved with the various activities of their children."
Everyone goes through changes. It's how they react to those changes that show their character.
"Changes and challenges are a part of life! Everyone must adapt to the changes that they encounter and show leadership in resolving the issues and direction within their control to be successful! This is not always easy but it is essential to be doing the right thing in their area of responsibility and the program they are in charge of," Gerken said.
Gerken has plans after he retires. He would like to get some of his work published.
"After retirement, I would like to slow down a bit and work on getting some of my Percussion Ensemble arrangements published."
LHS Junior Ryan Russo has worked with Mr. Gerken for several years. He said Gerken is a disciplined instructor but also a compassionate teacher.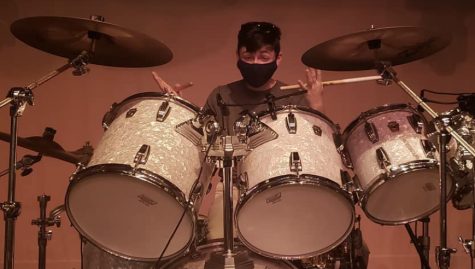 "Mr. Gerken is a very tough, but a caring teacher. He is the only teacher I have had for five years straight, and throughout that time, he has shown me time and time again that you can do almost anything through hard work," said Russo.
Gerken's class is very direct and unique. Russo explains what makes his class different from others.
"Being taught by Mr. Gerken is a different experience from every other class I have taken, mainly due to the fact that learning how to play instruments like Xylophones and Drums is very hands-on. When Mr. Gerken teaches, it isn't like a science class where everyone sits at their seats and tries to not fall asleep."
LHS Principal Mr. Burre said that Mr. Gerken's longevity is an impressive commitment to excellence.
"He puts the time in to be ELITE. It is not uncommon to see Mr. Gerken here late at night working on percussion when nobody else is in the building."
The Percussion Ensemble will present their Spring concert Friday and Saturday, May 6th & 7th at 8:00 p.m. at LHS.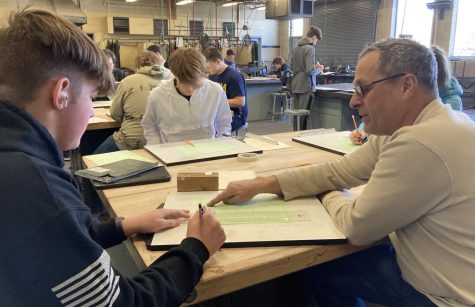 Doug Moos
Mr. Moos has made special connections with his students over the years and created many job opportunities for seniors.
LHS senior Dylan Echard said that Moos is an instructor that helps students transition into real-life careers and take a personal interest in his students' successes.
"Mr. Moos is more than just a teacher. He actually just helped me with a job opportunity where he actually met me there and toured around with me," said Echard.
Burre said that one of Moos' best qualities is the way he has connected with his students over the years.
"The relationships he creates with all types of students. Mr. Moos will always tell you the truth and embodies what an LHS teacher should be. "He loves coming to work at LHS every day to be around kids."
Good teachers know that making strong connections with students is one of the factors that help students succeed personally, academically, and professionally. Echard looks at Moos as more than his teacher. He said Moos is also a friend with whom he has made great memories over the years.
"He always jokes around in class and to most of us seniors, he's more like a friend than a teacher. We have lots of little inside jokes and good memories from his class for the last four years. He's a very memorable teacher and a good friend," said Echard.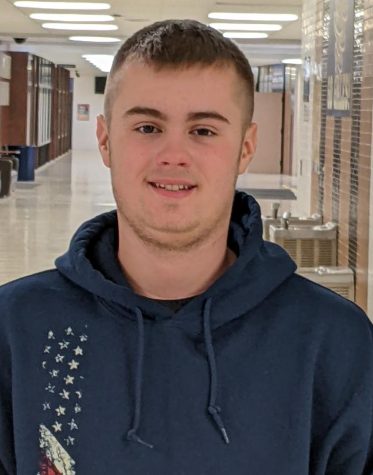 Moos has experienced multiple generations at LHS. In fact, his son, Tony also teaches at LHS and some current teachers here had Moos as a teacher when they were in high school.
"I started teaching in the fall of 1983. Some of my first students are teachers now, like Mr. Phillips, Mr. Hedges, and several others in the building. Seeing them grow up and seeing what they do as adults, it's fun to see them grow up and see what they accomplish."
Technology has been a major change for Mr. Moos. He isn't the biggest fan of the new technology.
"The Chromebook and the internet, I'm not a big fan of it. When I did my masters at Bowling Green I wrote programs for Apple when it first came out."
After he retires, Moos plans to visit Alaska. If he checks that off his bucket list he will have traveled to every state in the U.S.
"I might get that done. I've already traveled everywhere I wanted to go. I spend a lot of time hunting, archery, and goose hunting so that's what I'll probably do. I'd also like to work at the new high school."