LHS Girls' Tennis Serves the Competition
Team shows they've got game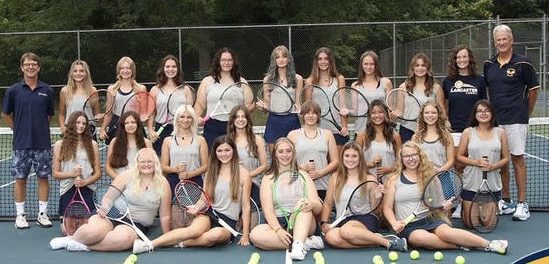 The Lancaster High School Girls' Tennis team experienced a lot of action on the courts this year racking up a number of accomplishments.  The team finished with a record of 15-9. Four players made First Team in the Ohio Capital Conference;  junior Hanna Sheets and sophomore Gracyn Gagne at First Doubles and sophomore Andi Green and senior Sarah Mullins at Second Doubles. 
LHS senior Sarah Mullins, an All OCC Scholar-Athlete said one of the best experiences she has had was playing with her partner, Gracie Stewart.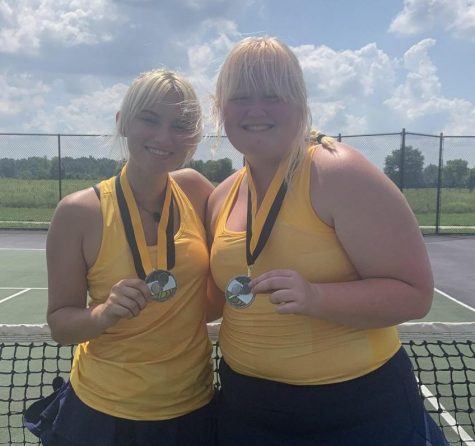 "Being doubles partners is a bonding experience unlike any other.  I'm going to miss getting to play my heart out on the court while having fun with her," she said.
Mullins and Stewart finished second place at the Walkins Doubles Tournament.  Mullins said that this was a great experience.
"Even though we didn't get first, Gracie and I played some of the best matches we played all season," she said.
"It was an amazing experience to see all of our hard work paying off and dominating on the court with her."
LHS senior Mallory Thomas added to the team's accomplishments by finishing with a 17-4 record during the regular season. Thomas said this was the highlight of her season. Thomas qualified for the district in both her sophomore and junior seasons but came up one match short of qualifying her senior year. Thomas said that qualifying for districts will be her greatest memory of her high school career. 
"I was extremely happy and excited to be able to go to districts as a sophomore and it was so cool to be able to play and watch some of the best players in central Ohio as well as the entire state," said Thomas.
The key to Thomas' athletic success, she said, is working hard and believing in one's self.
"In tennis, you're all alone out on the court which means there's nowhere for you to hide. If you put in the work, you'll get good results, and if you don't put in the work, you won't," she said.
"Believing in yourself is also super important too because tennis is such a mental game. Even if you're a significantly better player than your opponent but you're less confident, you'll more than likely lose, so it's super important to have a strong mental game" said Thomas.
Reflecting on the season, Elick praised all of the tennis players.
"All 24 of our players, whether varsity or JV, had their own outstanding moments this season. It's hard to single out just a few players when everyone worked hard throughout the season."