Well Rounded and Drawing Attention
Talent and hard work leads to success
Sometimes teenagers don't get enough credit.  Eye of the Gale is making an effort to spotlight high school students who display outstanding talents and are role models for others.  LHS junior Hannah Sheets is a good example.  Mental and physical strength are both assets that she possesses and she has a long list of accomplishments ranging from sports to art.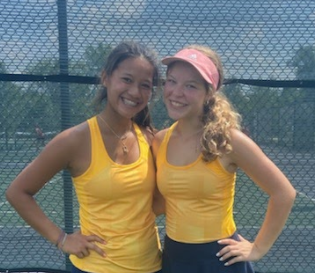 Playing tennis since fifth grade, she flourishes with each passing season. Sheets has been playing Varsity since her freshman year, And even with COVID restrictions, Sheets overcomes and conquers obstacles. She shows that hard work pays off during the toughest of times.
Sheets leads her team as captain and has the leadership skills to guide by example and to also listen and learn from her teammates. Head tennis coach, Gary Elick, has worked with Sheets and understands her drive and work ethic.
¨I think it is Hannah's sincerity that draws people to her. When talking to her, you feel she's vested in what you're saying. You never get the feeling that she is half-listening to what's being said. Hannah always gives you her full attention,¨ Elick said.
Sheets said she has worked especially hard to overcome one obstacle, in particular, defeating Pickerington Central. After relentless hard work, Sheets and her tennis partner, Gracyn Gagni, finally served their longtime opponent.
"We fought so hard that night and won in three sets. That was definitely the highlight of my season – seeing our hard work paying off in that very moment," Sheets said.
"We both were recognized as Fairfield Medical Center's Athlete of the Week and following the closing of the season, we were named first-team all-league honors in our OCC," she said.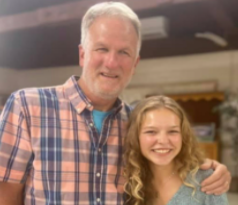 Sheets' attitude in the game and toward others, leaves a long-lasting effect on everyone.
"She realizes that the most important parts of being human are the bonds you form with others and the value of having meaningful interactions with everyone you meet. Hannah is truly one of a kind," Elick said.
While off the court, Sheets shows her artistic side with music and drawing. 
"I have been drawing for as long as I can remember. It was always something that I went to and I never really thought of it as a passion until more recently. One thing that I know I've always wanted to do was storytelling and I have pursued it with many different mediums such as writing, singing, and theatre," Sheets said.
Drawing has become Sheets' favorite vessel to pour into when sharing with others. As an artist, Sheets has several inspirations and influences for her work.
"I look up to many talented artists such as Ramón Nuñez, Jen Zee, Ethan Becker, and Ian Worthington. The media I am exposed to also inspires my work," she stated.
"This includes the shows, movies, and books that I enjoy. Hayao Miyazaki's Studio Ghibli films are a big inspiration of mine. His films emphasize the beauty of the more mundane aspects of life while telling such intricate stories." 
Sheets has advice for students to balance school, sports, and activities.
"Never give up whatever you are working towards. Striving for your dreams and aspirations can be extremely difficult and even discouraging. Don't let the struggles you are enduring now stop you from what you want to achieve in the future."