Success Continues for the Gales
LHS boys cross country team runs to state
The Lancaster boys varsity cross country team won the OCC championship in dominating fashion. In the district meet, the varsity team of Kaiden Lanoy, Trevor Lanoy, Isaiah Lanoy, Colton Thress, Kaleb Stull, Jacob Koenig, and Adam Criser placed second out of thirteen teams, which qualified them for the regional meet. The Gales went on to place third in the region which propelled them to the state championship where they finished their season by placing 9th in the state meet. They finished the regular season winning 6 of 7 invitational meets and defeating all but one of 91 teams.
Head Coach Jeff Koksal expressed that he believes this team is special.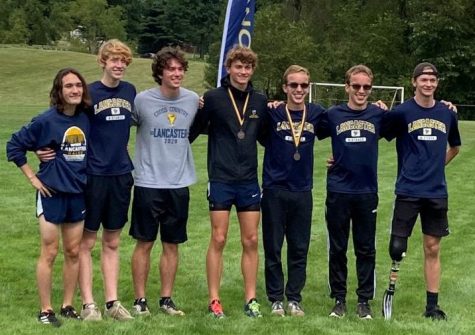 "The 2021 team is very talented but young and inexperienced in some respects," said Koksal, "It can be frustrating at times, but the guys are getting stronger and improving steadily. This has the potential to be a very satisfying season."
Senior Kaleb Stull has been one of the leaders for the varsity group this season.
"My senior year has been a roller coaster, some days it's really easy and other days it's tough to keep up with everything going on in all the activities," stated Stull, "This year is way more competitive than it has ever been before."
Stull reflected on his season and said he will miss his coaches and teammates.
"I will miss the coaching and my teammates. I've been in the program since my freshman year and you really do grow attached to the people you compete with,¨ said Stull.
The Gales varsity group had many highlights this season, but the future looks equally as bright for the Gales. In the 9th-10th grade race at the Midwest Meet of Champions, the first five runners to cross the finish line were all Gales.
"Our 'second seven' continues to improve and would be the varsity team at most other high schools," stated Koksal, "The 1-2-3-4-5 sweep by this group at the Midwest Meet of Champions was awesome to watch!"
Lancaster had to fight through some adversity as well this season.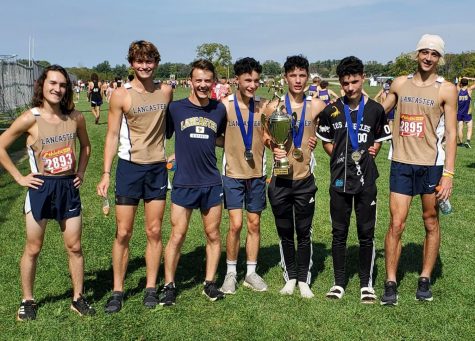 "The weather conditions have been difficult for all distance runners. The heat and humidity impacted our results and can be demotivating to some athletes," Koksal expressed, "Covid illness and potential quarantines continue to be a risk we must manage."
Coach Koksal has been the head coach for the Gales for 13 years and has 26 years of high school coaching experience.
"It is very satisfying to guide teams, providing opportunities for guys to improve, succeed and grow as young men…to support our athletes as they advance as far as their abilities will take them, including state, regional, and national level competition," Koksal said.
Assistant Coach David Comer who has been coaching cross country for four years explained what his coaching experience meant to him.
"What has meant the most to me about being a coach is what a lot of teachers say about teaching, I get a chance to 'touch the future' I hope in some way that I have made a positive influence on some of you guys that you will take with you and do the same," said Comer.
Coach Comer enjoys coaching high school athletes.
"Every person, no matter if you run a 5-minute mile or a 10-minute mile in a race, feels that hurt and pain. All of the guys continue to amaze me every day with their willingness and drive to succeed not only in racing but in life."
Up-and-coming sophomore Evan Rice battled injuries in his freshman year but has taken a big step in his second year as a runner.
"This year has been a real game-changer for me. I have just broken through a major mental barrier. I have gone from a middle range JV runner to a high JV and low varsity runner," said Rice.
Evan Rice has learned a lot from the seniors and coaches this season.
"I have learned from my coaches that there are multiple ways and strategies to running a race. I have also learned a couple of things from my senior athletes, leadership during practice and in the race is very important to compete at our best."
The 2021 season will be one to remember for the Lancaster Gales.