Back on the Leaderboard
Lady Gales compete at state for first time in years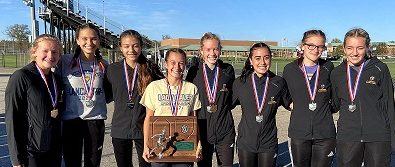 For the second time since 2001, the Lady Gales cross country team made it to the state championships. The 2020 team placed 18th. Sarah Craft, Kailyn Lanoy, Amarissa Kerns, Riley Spangler, Kayla Day, Gracie Thress, and Liberty Sexton, all competed at the state meet. Gracie Parrett was the alternate.
Adding to that victory, the Lady Gales were also the OCC Buckeye Division champions. Sarah Craft was the individual champion for the second year in a row. Riley Spangler, Amarrissa Kerns, and Kailyn Lanoy were first-team all OCC.
As district runner up, the Lady Gales were second to Hilliard Davidson. Originally ranked 6th in the district, the team finished as runners up regionally. Head coach Teresa Tripp said the athletes refused to let any obstacle get in the way of their success.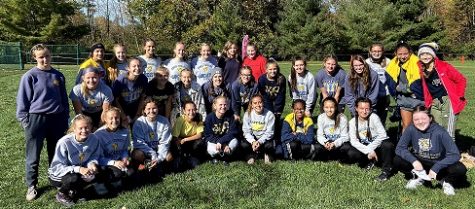 "With all of the challenges thrown at them and many of our traditions put on hold because of COVID, I couldn't be more proud of this team," she said.
"Week after week they kept pushing themselves to be better. They had goals they wanted to accomplish and they were willing to put in the work and make sacrifices to reach them," said Tripp.
LHS junior, Amarissa Kerns, who was named All-OCC and Academic All-Ohio, said this season exceeded her expectations.
"I've come a long way since my freshman year and I couldn't have done it without my teammates and my coaches. I was definitely more competitive with my teammates this year which allowed me to have a successful season and made it so much fun to compete," she said.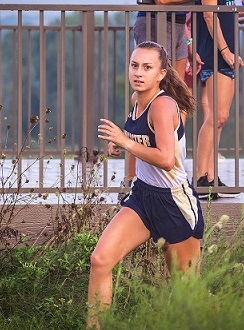 Senior Kayla Day, a second-year varsity runner, ran a personal best this season and accepted a college offer to run for Ohio Christian University. Although this season was different because of the pandemic, she said the high level of support and spirit from her teammates was exceptional.
"We had smaller-sized meets and got limited tickets to meets. It was difficult to not have our whole team supporting us during post-season races but as soon as we finished racing our phones were blowing up with messages from the girls because they were watching our times online, and it felt like they were right there with us," she said.
"The team is amazing, from freshmen to seniors, we are all goofy at practice. And no matter the day, the weather, or the run, we are all laughing the whole time. When I'm having a bad day the one thing I know will cheer me up is going to practice and having fun with my teammates," said Day.