Gales Basketball Boxed Out
Senior player discuss highlights
The Lancaster High School Boys Basketball team ended their tough season with a 6-16 record. Even though their season took a wrong turn, the players and coaches had positive feedback about the overall season experience.
Coach Kent Riggs gave his opinion about the overall season and what needs to be improved.
"Reducing our turnovers per game would have made the season more successful," said Riggs.
"A very challenging schedule including top teams in the area Gahanna, Pickerington North, Pickerington Central, Newark was the major challenge of the season."
Despite the challenges, the coach said there were definite highlights during the season.
"Beating Grove City and exciting win at Athens," he said.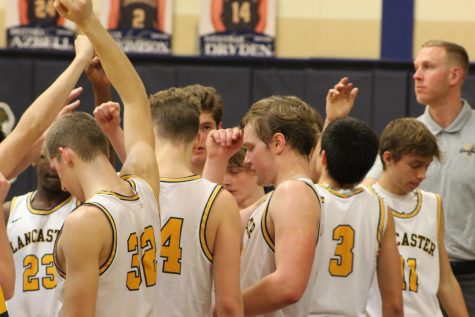 Senior players closed out their final high school basketball season putting points on the scoreboard.
Leading scorer SeniorTanner Roush averaged10 points per game; leading rebounders Tanner Roush and Jacob Davenport 4.8 per game; leading assists per game senior Deven Savage 2.4; leading free throw shooter, senior Owen Snyder 84%.
The seniors on the team gave strong but similar opinions about the way their season ended. Senior, Jacob Davenport gave heartwarming words about his last season of high school basketball.
"We definitely expected more wins and happier days but I would not change it for the world, having so much fun playing with my family," he said
"I would change the outcomes and the way we handle our leads in the 4th quarter and the game! Many guys take it seriously like me, but you gotta have fun a little and enjoy the game; you only live once and you only play at basketball."
Another senior Cameron Roudabush gave in-depth words about the season in his opinion.
"The one thing that has made my past two seasons great has been the positive attitudes from my teammates and coaches, he said.
"I have always felt that I have a good relationship with everyone in the locker room, and that is very important because those relationships transition onto the court. So just continuing to keep a positive attitude with one another, win or lose, is the key to making a great season."
Riggs gave the last words about his team and how they played.
"This year's team worked hard and were a very enjoyable group of young men to coach."
"Teamwork, discipline, and working for a common goal are reasons it is important for students to participate in athletics."