LHS Swim Team's Hensley Qualifies for State
Team says hard work makes team a family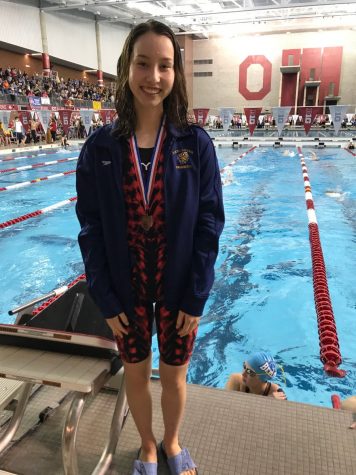 Lancaster High School sophomore, Mia Hensley qualified to represent the LHS Swim team at state competition this year. This is just one of the acheivements the team experienced this season.
"There have been many successes so far this season from many of the swimmers." says Joel Kasik a senior at LHS.
"Many of the newcomers have been doing great in regards to improving their form while swimming and making substantial progress in getting faster times at races. To be honest, everyone has made a lot of progress with getting faster times and we are all proud of that."
The team's progress this season has especially been exceptional considering the fact that over the past few years the team has lost many graduating seniors.
"With the loss of 15 seniors over the past 3 years," says Coach Axel Birnbrich, "it has been a rebuilding process the two years I have been coaching this High School."
"The challenges are finding meets that are competitive for our stronger swimmers but also gives our newer swimmers the opportunity to compete and to learn more about this sport," said Birnbrich.
"There were many great moments and achievements, seeing a four-year senior obtain a 22.89 in 50 Free; seeing a freshman making his first District champs, and seeing our first top 16 swimmer at States in a few years," continued Birnbrich.
"Regarding OCC Champs, most teams like ours use this meet as a stepping stone for our young swimmers to perform and to get mentally ready for the Sectionals and beyond meets."
The team has also been very welcoming to those newcomers to the sport and incoming freshman as well.
"This is my first year of swimming and I really love it so far! The dynamic of our team is amazing. We are constantly encouraging and cheering each other on., said Gracie Stuart.
"We have a tight bond and we are all very close. If one person from the team is racing, you can almost always see, or more likely hear, the rest of the team screaming our heads off for them. I truly love this team and the people that are on it," continued Stuart.
"They are all amazing and very inclusive towards me even though it's my first year swimming and me being a freshman!"
The team's support for one another is one of the things which makes the team so special.
"The challenges are the same as most sports, keeping a hard work ethic and pushing yourself each day," said Josh Murdock.
"When it comes to the team itself we are a family. We all work together and push each other to be the best we can be," he said.
" We love to joke around and put smiles on each other's faces. Our team always does the most they can for each other."