Gales Wrestlers Go To The Mattresses!
Win OCC for 8th time and qualify for state competition again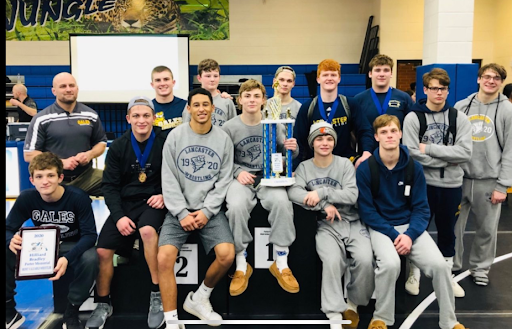 Four Lancaster High School Golden Gales wrestlers qualified for the state competition this year. The wrestling team ended its successful season with dual meets standing at 10-2 as OCC Champions for the eighth time out of ten years.
Coach Dugan Bently recalled some of the highlights of the 2019 – 2020 season.
"Beating Division 3 State Runner Ups Waynedale (in a dual) and Logan Agin winning the Brecksville Tournament," he said.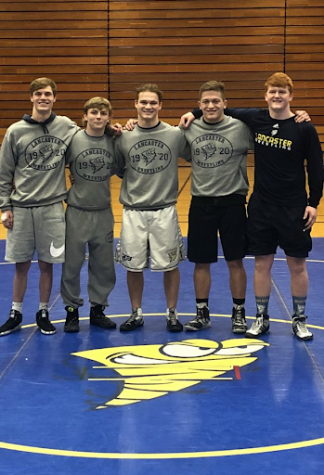 Despite their overall success, Bently said there were some improvements they could have made.
"Challenging ourselves to get better and taking advantage of all the opportunities to improve."
LHS senior Logan Agin said the team overcame challenges at the onset of the season.
"Wrestling two tough teams early on in the season was a good challenge we
had this year," he said.
LHS junior, Jacob Reed wrestling agreed with Agin and said they had other obstacles they had to overcome.
"We have had a few injuries and some skin funk going around causing people to miss some meets, but most people have recovered fine."
Despite the ups and downs, LHS sophomore, Ajay Locke predicted victory even before the season ended.
"The season has been very successful for the wrestling team this year. So far we are 4-0 as a team in duels in the OCC and looking at a chance at repeating last year of being OCC champs and state duel qualifiers again," he said.
The team dynamics are something that the wrestlers said help them accomplish their goals.
"Our wrestling team gets along very well. There is not a lot of tension or negative peer pressure within the team. We motivate each other very well. It's basically a brotherhood where w
Many sports competitions, including the State Wrestling Championships, have been postponed due to the Coronavirus epidemic.
e all make sacrifices and push to our limits together," said Locke.
The sport of wrestling is one of the most difficult sports because each wrestler has to take on the opponent individually.
"It is important for them (the wrestlers) to learn discipline and regiment themselves, which can help them when they need to do so later in life," he said.