Girls' Golf – Getting Teeth in the Game
Athletes showed promising growth throughout season
The Lancaster High SchoolVarsity Girls' Golf team experienced a lot of growth throughout their season but really started to swing toward the end of competition. The team exhibited their best 18-hole match score at the last of the four OCC tournaments, and their best 9-hole match score at their last match of the season against Canal Winchester.
According to Tom Stedman, the varsity head coach, the golfers improved their games consistently during the first half of their season.
"We always point toward playing the best golf towards the end of the season," said Stedman.
"We may play 6-15 teams at a time, and really don't count wins and losses, per se. We look at score improvement as an individual and a team," he said.
This year's golf team is relatively new to the sport. Many of the young athletes experienced some
difficulties playing against more experienced teams.
"With golf, it is definitely battling yourself through the frustration of having up and match scores during
the season. Learning how to let a bad hole and bad match go and move onto the next hole or match can be difficult," said Stedman.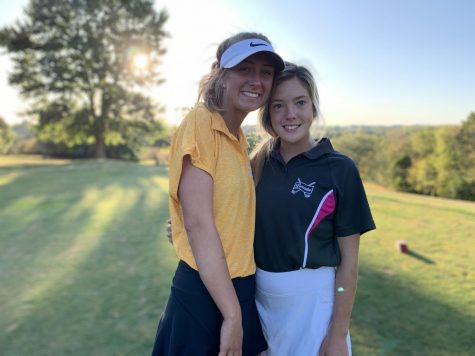 Grace Schmalfeldt, a senior at LHS, joined the girls' golf team as junior but said the sport is something she will enjoy for a long time. Schmalfeldt said that girls who want to learn the sport should consider playing for the team.
"I definitely recommend you doing a sport early on, probably sophomore year, but if you don't have that opportunity to do that, I would start when you can."
Schmalfeldt now plans to join either the golf or volleyball team in college.
Unlike Schmalfeldt, Aria Griggs, a sophomore at LHS, was introduced to golf by her father and grandfather. She has been playing golf since she was five years old. Since that time, she has played golf in both middle school and high school. But Griggs said that girls who want to play golf shouldn't let their inexperience hold them back.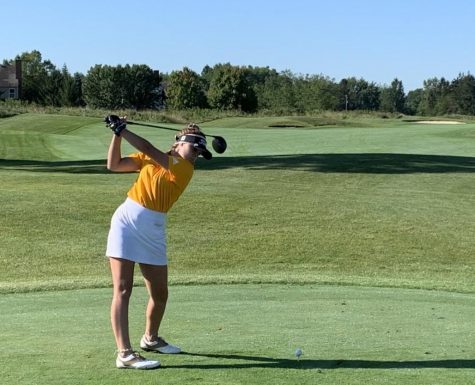 "I bet it's harder for them because they have to learn all the rules and learn new skills," she said.
But once new golfer's get the swing of it, the game is very enjoyable. Griggs is hoping that her commitment to golf will pay off in her future with a college scholarship.
Izzy Anderson, another LHS sophomore joined the girls' golf team this year said she likes the camaraderie that golf provides.
"I've grown to love going out and playing and getting close with all the girls on the team," said Anderson.