Setting up for Future Success
LHS girls' volleyball planning a new chapter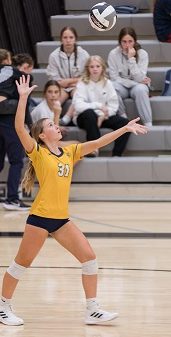 The Lancaster High School varsity volleyball team struggled this season with an overall record of ten wins and thirteen losses. Heather Ingram, head coach of the volleyball team, said the team faced some challenges.
"Just like any season, we had illness and injuries. We are also very young. I only have two athletes with varsity experience this year. In our conference – a very tough one – this has been very difficult," she said.
LHS senior Roma DeLeon said it took some time for the team dynamics to gel.
"I think the most challenging part about this season for me was getting used to playing with a whole new group of girls, going from playing with the same girls for many years to playing with whole new teammates was hard for me at first," she said.
"But after getting to know them and growing as a team, I now would not trade the bonds I have made with my teammates for anything," said DeLeon.
Senior Brooke Thompson agreed with DeLeon and said the young team struggled to compete with more experienced teams in the league.
"The most challenging thing about this season was adapting to having such a young team coming into the season compared to other teams and our team last year," said Thompson.
With the struggles came some victories that kept the team psyched and working for victories. Ingram recalled one of the games that really stood out during the season.
"Going five sets with Newark. Yes, we lost, but the crowd was intense, and the atmosphere was out of this world," she said.
Ingram described the strength of one of the senior athletes.
"Roma DeLeon is our leader. She is leading the conference in digs and aces. Last year, DeLeon had some rough games, but this year, I needed her on the court at all times. She had an outstanding senior year."
DeLeon said she will always remember the highlights of her senior volleyball season.
"I think the biggest highlights from this season for me would be putting up a fight against teams and coming back when it seemed impossible, the feeling of winning as a team and celebrating on the way home on the bus is the best feeling. Some of the best memories and friends were made with this team and I will carry them with me forever," remarked DeLeon.
"There are so many things I will miss about my high school volleyball career but mostly I will miss having fun with my teammates at games, on the bus, at practice, and at team dinners.
Being a part of a team and sharing a bond with my teammates is something I will always miss and the memories I have made with my teams over the past four years I will never forget," she said.
Thompson said her experience with the team was difficult at first but became very significant to her in the long run.
"I will always remember when I first started playing volleyball and not thinking I was going to like it but sticking it out until high school because I wanted to play with the girls, now I wouldn't change it for anything and it is something I will cherish forever."
A crucial aspect of success includes the development of an encouraging team dynamic.
"Goofy, they get along well with each other, and they seem to enjoy being around us," said Ingram.