Love in the Game
LHS girls' tennis rally camaraderie after tough losses
The Lancaster High School Girls' Tennis team faced some tough challenges this past season finishing 9-11 overall. However, the highlights of their season also included winning the Teays Valley Invitational and sophomore Mallory Thomas qualified for district competition.
One of the reasons that the team struggled during the regular season is due to the fact that they lost seven seniors who graduated last year. This year the team had to rebuild.
LHS tennis coach, Gary Elick said that new young athletes that began their high school tennis career this season indicate a promising future.
"I thought the girls were competitive considering all the spots we needed to fill," he said.
"Many of the girls from last year's team and a strong incoming class of freshmen are preparing this winter by participating in winter tennis at the Y RecPlex."
While love means zero in tennis talk, it's a strong emotion that helps to bond the seasoned athletes with the new rookies on the team.
"Each year more girls join the team, and we welcome them with open arms, said Leah Watson, a sophomore on the team.
"It's cool to have such a loving group of teammates," she said.
"We work hard and we give it our all."
LHS senior Cara Falvo agreed.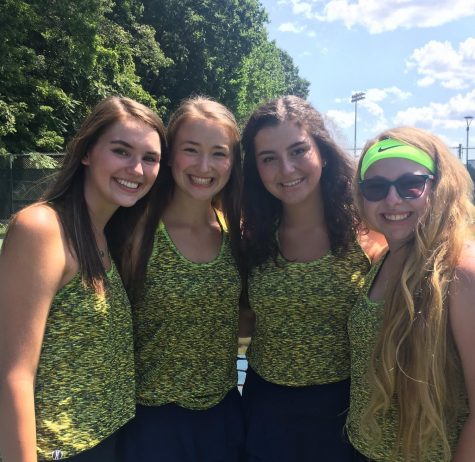 "This season has gone very well. Coming in, we had a lot of new faces, and lots of new relationships to build," she said.
"I think we really improved socially throughout the season."
Senior Ellie Jones said that overall, she thinks the season highlight was learning and improving through experience.
"I think we have improved mentally this season, we all had some tough losses that drove us to be better and reach bigger goals throughout the team."
Senior Sarah Hoffman-Weitsman said winning some matches wasn't the only positive aspect of the season.
"The season was not out best record-wise," she said. "But I think we all became closer and that has helped us have an enjoyable season."
Watson summed up the overall attitude of the team.
"The team is so accepting and we are all able to enjoy each others' company at practices, matches, and bus rides," she said.
"It's a great opportunity to meet new people."