Students' Solution to Crowded Hallways
Nixed by school administration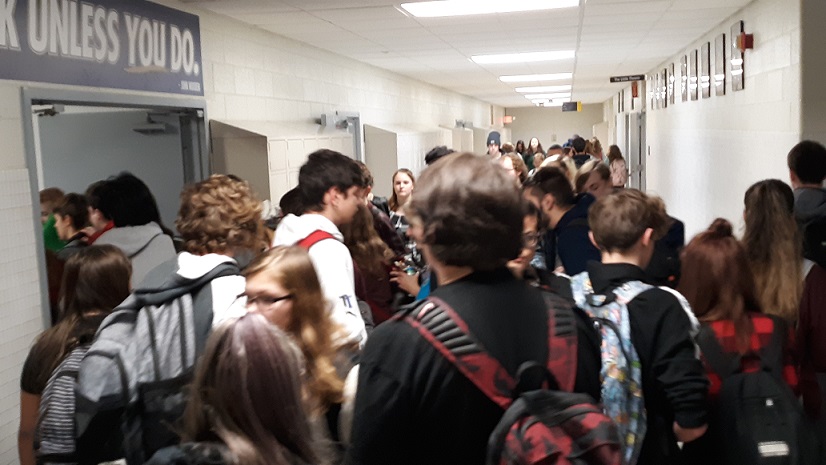 Eli Schleich, Photography Crew
December 19, 2019
Aggravating. Aggressive. That's how many Lancaster High School students describe the congestion in the hallways as students are changing classes multiple times each day.
Recently, a small contingent of students proposed a plan to help alleviate the problem. Unfortunately, their plan was rejected by the school administration.
"We were kinda frustrated because the halls are so crowded, especially during the lunch periods, that it is difficult to get to the CT building on time for class," said Justin Webb, a junior at LHS.
Webb, along with Jaysen Justice, Jasmine Murray, Mikaela Hug, and Sydnie Hill came up with a proposal to help improve the flow of human traffic in specific areas of the school where most of the slowest bottlenecks occur. They started by studying a floor map of the main building and then devised a system of lanes for foot traffic, including a lane for handicapped students in wheelchairs and crutches.
"What we proposed was to block off a certain section of the hallway for students who have to leave the main building and go to the CT building, and for handicapped students," said Sydnie Hill, a 9th grader at LHS.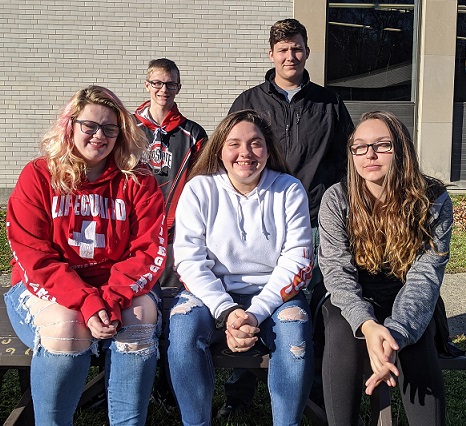 Much of their plan included marking the hallway floors and stairwell walls with directional signs to direct the flow of foot traffic. The group suggested marking the hallways like lines on a road; walk on the right side of the hall in any direction. They also suggested that every stairwell be designated as only up or only down. The students even considered getting student assistants to be traffic cops that would monitor traffic in the hallways to keep it moving smoothly.
"We thought about asking Criminal Science students to help monitor the areas to make sure that people follow the right directions, especially in the handicapped lane," said Hill.
Jasmine Murray, another freshman, said the group really took the time to brainstorm and discuss the pros and cons of their plan.
" We took a lot of time to put it together; about a month or so," she said.
"We walked the hallways, took pictures, and drew floor plans."
When it came time to submit their proposal to the high school administration, they were very optimistic.
"It can be an unsafe environment," said Jaysen Justice, a junior at LHS.
"We just wanted to make the way it (the hallway traffic) run a little easier," he said.
The administration said that student safety is their biggest concern.
"Making a lane that is specific for some people will just make the other parts more crowded," said Mr. Burre.
Another issue was timing.
"They also felt that the timing for making changes to the hallway situation was not right.  They told us that because the (new) high school is being built, there wasn't really any point," said Webb.