Levy Launch
Community gathers to kick off bond levy for new high school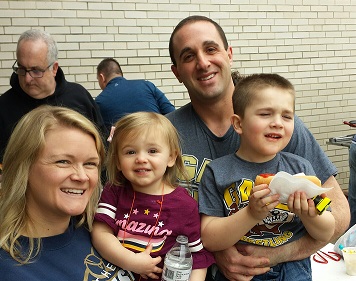 Hang on for a minute...we're trying to find some more stories you might like.
Lancaster City Schools kicked off the much anticipated bond levy for a new high ool with a celebration for the community.  On Sunday, March 24, 2019, hundreds of local residents and city school employees gathered at the current high school for food, fun, activities, and to spread information about the new school.
The ballot issue seeks approval for a 3.7 mill bond, costing homeowners less than $11 per month for a $100,000 home value. The state of Ohio's Facilities Construction Commission will fund 35% of the project. If the levy passes, the new school is slated to be completed for the 2024-2025 school year.
Recently, efforts were made to register 18 year old students to vote in hopes of increasing positive voter turnout. In addition, Lancaster City Schools Superintendent, Steve Wigton said significant measures have been in the works that should impact voter turnout.
"We are targeting the registered voters who have a history of voting in primary elections, the registered voters, who through voter modeling research, are most likely to support the levy, and our school community of staff and parents, particularly the parents of elementary students who will attend the new high school," said Wigton.
Lancaster High School is more than 60 years old and it's structure is reportedly inadequate for today's students to excel academically in a modern, high-tech world. The existing building has inadequate temperature control, lacks lab spaces and is severely crowded.he proposed new high school will be twice the size of the current school at 327,214 square feet. and will be built on the current high school property without displacing students during construction.Additionally, the new school will address the challenges of security and safety and provide state of the art technology for today's educational needs.
"The total cost of the project, which includes the construction of the new building and the relocation of athletic fields is $101 million," Wigton said.
Wigton explained that less than half of the funds are coming from the state, which leaves Lancaster with $35,350,000 left to raise, which is a huge gap he said.  In the past, the Lancaster voters have been very supportive when it comes to building new schools in the district.
"The ability to complete the master facilities plan to construct all new school buildings in the district is the culmination of the dedicated efforts of many people over many years. I am grateful to the community for their support. This is why the plaques on our new buildings say Built By The Citizens of the Lancaster City School District," said the Superintendent.