Get into Science!
Science Olympiad uses competition as incentive for future success
Hang on for a minute...we're trying to find some more stories you might like.
The Science Olympiad encourages students to get involved in science activities that exceed the basic education gained in the classroom. The club is student led which allows students to hone skills in independent learning and leadership.  The team recently competed at the Grandview Heights regional and placed 7th.  Despite not placing high enough to compete at the state competition, the team is pleased with their achievement.
"Science Olympiad is about teams of students competing together against other teams in science related topics. There are two major event types, building and testing," said LHS senior and team captain Clark Bates.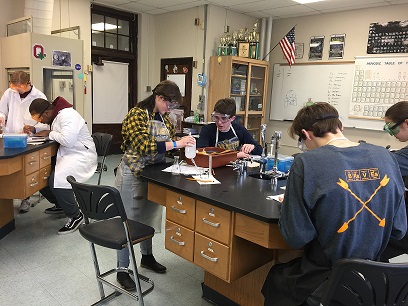 "Building events involve students creating something, such as a robot, balsa wood tower, or mousetrap powered car. Testing events involve students taking tests on subjects like Chemistry, Geology, and designing experiments," he said.
LHS sophomore, Thomas Richardson explained that the Science Olympiad competition is very challenging.
"Essentially, Science Olympiad has 23 events relating to science in one way or another," he said.
"We take a college-level exam on the subject, some of which are building events, where we build a certain type of vehicle, structure or robot, and some of which are hybrid events, which have a physical hands-on building portion in addition to a testing component," Richardson said.
One of the major advantages to being part of Science Olympiad is gaining knowledge and experience necessary for college and for future opportunities in science related career fields.  LHS science teacher, Greg Leasure says there are many advantages in joining the Science Olympiad club.
"Students are exposed to a lot of engineering and math while in the program," he said.  "Since I have been here, members have graduated and are doing great things at colleges including Ohio University, University of Toledo, and the University of Dayton, just to name a few," said Mr. Leasure.
"Science Olympiad prepares me for my future because it shows high schoolers what college and real-world learning looks like. Many times in college and the workforce, you don't have a teacher right beside you holding your hand and walking you through everything," said Richardson.
Richardson went on to say that the competition experience they have gained through the club makes them more independent as individuals who are responsible for their own learning.
"Science Olympiad gives us a type of independence as high schoolers that is not often seen in other high school activities. This greatly prepares us for life post-high school," he said.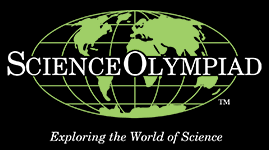 Although members of the club are responsible for researching science content well beyond the high school curriculum, they have a lot of fun and enjoy a unique camaraderie.
"It is a great way to get to know people," said Clark Bates.
"I enjoy educating myself on science topics," said Murray Robertson.  "I otherwise would not have the opportunity to learn."
LHS freshman, Ally Palmer agreed.
"I am involved in Science Olympiad because I enjoy competing and learning the in-depth science required for competition," she said.