Senior Graduation!
Feeling the pressure to prepare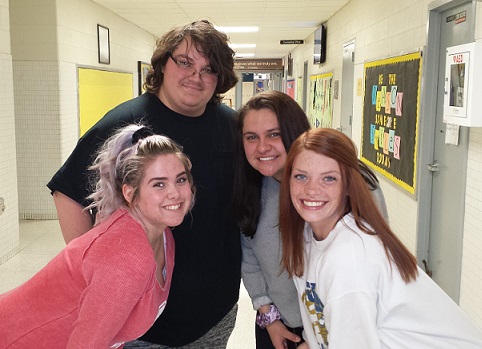 Hang on for a minute...we're trying to find some more stories you might like.
Seniors at Lancaster High School are nearing graduation and for some, time is running out for them to prepare for the next leg of life's journey. College? Military? Workforce? The clock is ticking!  At this time, seniors should be making a decision about which direction they want to go.
"College bound seniors should be working on their scholarships," said LHS guidance counselor, Sarah Collins.
"However, if a student is planning on jumping right into the workforce, it's important to look for full-time, full-benefit opportunities or apprenticeship programs," she said.
At the very least, every student should make sure their attendance and grades are good enough to graduate on time. Now that the 3rd quarter report cards have been issued, students who may have to make up a course should register immediately to do so.
LHS senior Samantha Conrad said she is doing all she can to prepare to walk across the stage and receive her high school diploma in about eight weeks from now.
"I have been trying to figure out and narrow down my college choice," she said.
"I'm trying to keep track of deadlines for scholarship opportunities at the future school I may attend."
Seniors who want a scholarship to a college need to apply sooner than later. LHS guidance counselor, Mary Jo Wooten, says seniors should access the LHS website for the latest information about available scholarships.
"All scholarship information that we receive we put on the Lancaster High School Guidance and Counseling website." she said.
"During this time of year, the scholarship page is being updated frequently. Students can also look at the university or college where they will be attending to see what scholarships their university or college has available for incoming freshmen," said Wooten.
LHS senior Clarence Blaisdell, has an initial plan in place for her future. "I recently got accepted into Capital University, but I'm not done working yet," she said.
"I've applied to FAFSA, and lots of different scholarships, and I'd recommend other seniors do the same."
Some college-bound seniors, like Mayzie Black, have not yet scheduled college visits. "I'm preparing for graduation but haven't decided which college I want to go to," she said.
Destiny Tornonto says she's excited to graduate and has a plan in store for her future.
"I believe I will be going to OUL next year and major in social work," she said.
Other seniors haven't secured a game plan for the future yet.
"I'm just ready to get out of here – I'm good to go," said senior, Sam Montgomery.
Robbie Fisher says he's not prepared for graduation.
"I'm just praying that I can graduate. I'm just ready to live my own life with no limitations," he said.
Lancaster Counseling Department Website
http://lhscounselors.weebly.com