Teamwork Makes the Dream Work – Again
Gales wrestler stay all the way on top all the way to state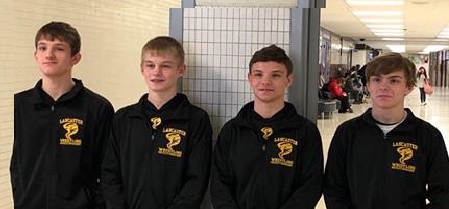 Hang on for a minute...we're trying to find some more stories you might like.
The Lancaster High School wrestling team is golden in the world of high school wrestling – at least in Ohio. Coach Dugan Bentley, was recently named 2019 coach of the year by the Central District Wrestling Officials Association. LHS junior Logan Agin placed 2nd at the OHSAA State Wrestling tournament. Five wrestlers placed at the district tournament, as well and the accolades don't stop there.
"Over the last decade the Gales wrestling team has won eight OCC conference championships and all while making six straight regional finals," said Coach Spires.
Logan Agin's victories have earned him popularity in the wrestling world. He has his sights set on first place next year at state.
"My close friends and family are proud of me and thrilled to see what is coming next for me," he said.
Wrestling is one of the most draining sports because it involves meeting and sustaining a specific weight throughout the season.
"If you do not make weight, then you cannot wrestle. Maintaining weight is the key to making weight." Agin who will graduate this time next year plans to continue wrestling in college.
Senior Dylan Strang said in order to be competitive, wrestlers must invest a massive amount of time in training mentally and physically.
"I tune everything out and focus on wrestling and winning," he said.
Along with training, Strang says that wrestling requires certain sacrifices.
"Like all sports, there is some sacrifice involved, but that is the price you pay. It is called commitment to the sport and getting better."
Coach Jon Spires says he and Coach Dugan emphasize the importance of their wrestlers being responsible to their team, their coaches, and themselves.
"As a wrestling coach, the goal is to establish core values that athletes needs to conceptually understand," he said.
"Athletes need to be completely committed, focused, hardworking and accountable."
Bentley says wrestling is not for the faint of heart and that he tries to provide as many opportunities for his athletes to win.
"It takes a lot of guts to lay your pride on the line and wrestle an opponent who wants to beat you one on one in the middle of a matt for all to see," he said.