LHS Swimmers Go To State
New coaches make success of team-building season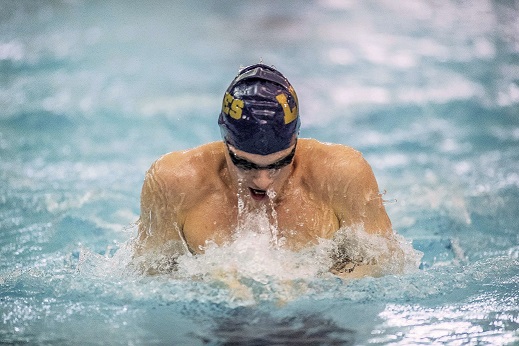 Hang on for a minute...we're trying to find some more stories you might like.
Lancaster High School swimmers, senior Ben Neff and freshman Mia Hensley, competed at the state level this past season in the wake of a number of new team challenges. Several seniors from last year's team graduated and the team acquired two new coaches this school year; Axel Burnbrich and Allyson Simons.
Despite sending two swimmers to state, the team's greatest challenge was not having enough swimmers on the team.
"Swimming is mainly an individual sport," said Coach Axel.
"There are tournaments like OCC, Sectionals, Districts, and States, but in those, not only do you need the top dogs, but you need many other swimmers to help support them," he said. "Since we do not have that luxury, we are more about the individual aspect, improving times and getting to the next level".
Coach Simons said the two state competitors, Neff and Hensley, have the dedication and work ethic needed to be champion swimmers.
"They are always going above and beyond," she said. "Although Axel and I are new to coaching them this year, they've had absolutely wonderful coaches in the past."
Mia Hensley said her greatest accomplishment was making it to the state competition."It was my goal for the season and I worked really hard every day to reach it," she said.
"I've swam competitively for the Lancaster YMCA since I was seven," she said. "I compete at big meets like the YMCA National meet and USA meets. My goal is to swim in college and to make it back to states in the next three years."
Ben Neff who also competed at state said he had some challenges.
"The biggest challenge I faced was timing my training right so that I would be able to have a good meet," he said.
There are two different types of swim meets. The dual meet, which is just two teams against each other for the win, and the invitational meet which is multiple teams competing against each other. But both have different purposes.
"A dual meet is about practicing different race strategies and having fun," said Axel. "An invitational is about using your skills and racing against the clock not the competition."
Hensley summed up the past season on a high note. "The swim team did amazing this season. We had 12 swimmers qualify for districts and 2 for states.