The New STEM Classroom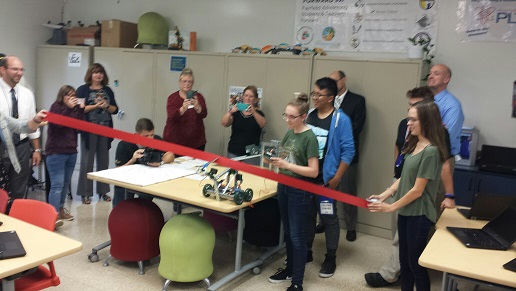 Hang on for a minute...we're trying to find some more stories you might like.
When Lancaster dignitaries decensended into the new STEM classroom to attend the official dedication of the space, they were awestruck when a small robot held the scissor and cut the ceremonial red ribbon.
Classroom 501 in the Career Tech Building at Lancaster High School is now home to the hailed STEM program. STEM is an acronym for Science, Technology, Engineering, and Mathematics. In addition to building the scissor welding robot, the students also built a simple machine that can hold a 50 pound weight.
"I would love to work on these kinds of projects all day if I could. Hand on learning is the best way for me to learn, personally," said Jacob Reed, a STEM student.
According to the summary of the 2018 State-Federal STEM Education Summit, stressing STEM skills today will benefit our nation in the future."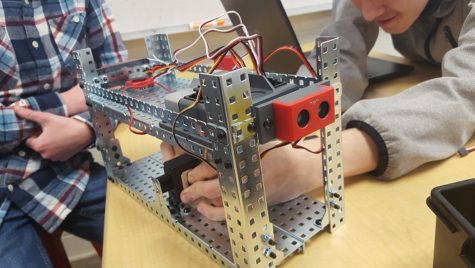 "Skills in STEM…open the door to jobs, strengthening the backbone of American ingenuity, driving solutions to complex problems across industries, and improving lives around the world," said President Donald Trump.
LHS STEM student, Trystan Goodyear agrees.
"I really love the hands on learning and I feel like this class will help me with a future job," he said.
STEM teacher, Clay Hartzler said the students can get a glimpse into future opportunities.
"The STEM program provides students with the opportunity to see what STEM careers exist and which ones are the best fit for them."
The current STEM classroom contains innovative technological equipment such as a 3D printer, a class set of advanced laptops, CAD software, robotics kits, android tablets, construction materials, modern classroom fixtures with varied seating and large tabletops. Unlike the traditional classroom where some student desks are packed tightly in rows like a can of sardines, STEM students have the luxury of moving freely and unobstructed in a large 34 square foot space. About $10,000 was used to by new tables, non-traditional seating, and storage cabinets.
"We got an initial grant from the state, but from there on, everything has been funded through the school's general fund," said Hartzler.
Among the special guests and dignitaries at the official dedication of the STEM classroom were Lancaster City Schools Superintendent Steve Wigton, school board member Lise Ricketts, members of the Lancaster Chamber of Commerce, staff from Ohio University – Lancaster's Computer Science department, as well as high school administrators, faculty, staff, and parents.