Farce of Nature
Newest drama club play debutes soon
Hang on for a minute...we're trying to find some more stories you might like.
The Lancaster High School drama club will be performing the play Farce of Nature November 15 through 17 at 7:30 pm in the high school's auditorium. General admission for Farce of Nature is $10, tickets are currently being sold online at  https://our.sh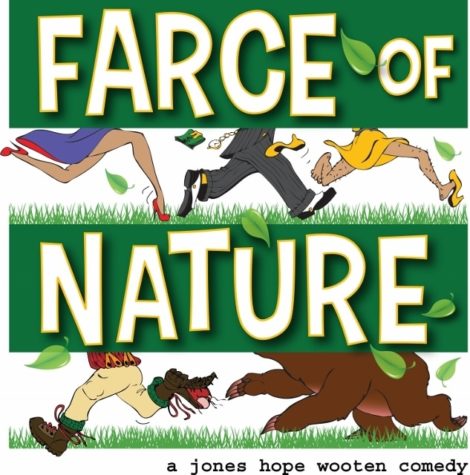 ow/lhs/farceofnature. Both general admission tickets and $8 student tickets will be sold at the door and during lunch periods the week of the play.
Farce of Nature is a play that follows a day in the life of the Wilburn family. Business at their fishing lodge is down and D. Gene Wilburn has found an investor to help them get their business thriving again. Throughout this romp, the characters create complete chaos but despite this the truth is revealed, love is found, and everyone's lives change.
"You should expect to enjoy yourself and be laughing your tails off as you see the characters of Farce of Nature come to life. Come on over and be reeled into the world of real southern hospitality," said Sami Kiger, an officer in the LHS Drama Club. 
There are many roles and responsibilities required to produce a live stage performance.   The drama club members fill the roles of actors, directors, set crew, lighting, sound, costume designers, and stage managers.  
Two separate casts are chosen through auditions.  These auditions can be stressful and intimidating said senior, Mason Destery Gunther.  "Auditions are stressful. Five students go on stage in front of the directors and read from the script and do improves. They are really scary even if you know who is judging you you don't know what you'll get and what's expected."
Many of the cast members said that rehearsals are productive but are usually a lot of fun. During rehearsals casts run through the play, talk with their counterparts, and form bonds.  James Hewlett said, "I joined because my mom forced me, but I stayed because of the family and bonds that are formed. You feel really connected to them (drama members). You always have a sense of family no matter who it is. It doesn't matter who you are as a person. The outside world melts away on stage."  Click the link to watch an interview with the cast.  https://youtu.be/ujljqlqr8nU
Thursday Night Cast
Gene Wilburn: Skyler Peterson
Wanelle Wilburn: Ashley Griffith
Ty Wilburn: Zane Barnes
Jenna Sealy: Courtney Palmer
Maxie Wilburn Suggs: Deryn Kraner
Carmine DeLuca: Cesar Valenzuela
Lola Barbosa: Hayley Zaker
Sonny Barbosa: AJ Daubenmire
Roxanne Thorne: Alixandria Allen
Friday & Saturday Night Cast
D.Gene Wilburn: James Hewlett
Wanelle Wilburn: Sami Kiger
Ty Wilburn: Mason Gunther
Jenna Sealy: Bryanna Liptak
Maxie Wilburn Suggs: DesiRae Todd
Carmine DeLuca: Cesar Valenzuela
Lola Barbosa: Ayla Hay
Sonny Barbosa: Collin Austin
Roxanne Thorne: Haley Collins