Gales Take Care of Business
LHS football team wins share in OCC title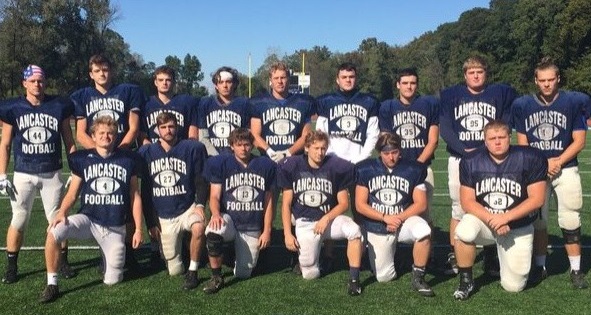 Hang on for a minute...we're trying to find some more stories you might like.
For the first time since 2009, the Golden Gales Varsity football team won a share of the OCC Division championship. As 2018 co-champions with the Reynoldsburg Raiders, the Gales played one of the toughest high school football schedules in the state of Ohio.
Coach Jon Carpenter said he is especially proud of the the senior athletes who worked hard to overcome some initial struggles in the season schedule which put the Gales consistently on the road playing away games.
"Considering that we had seven of the first nine opportunities on the road . . . it's hard to get off to a fast start.  However, we learned our lessons in the beginning so that we could have a solid finish in league play," he said.
That solid finish was an accomplishment that senior athletes say is something that they will never forget.  "Winning the OCC has been a huge goal for me since freshman year, it is something we haven't done in almost ten years . . . being able to do it my senior year was an amazing feeling," said LHS senior Isaac Oatney.
Senior Alex Widener credits team unity as a major factor in the team's success.  "We had a great senior leadership this year and everyone played for each other. Everyone really liked each other and I think that is a reason as to why we won six in  a row."  Senior Isaac Oatney agreed and said, "We were the underdog in most of those games."
After a slow start to the season, the Golden Gales sparked a six game winning streak in which the offense dominated other teams' defensive lines.  Offensive coach, Cory Miller credits the senior athletes for their leadership and no nonsense approach for the winning streak and overall successful season.
"When we had to pass, the offensive line provided the protection needed for Tyler Monk to complete his passes downfield.  Vince Albertini, Nate Weber, and Jackson Reinsheild were the leading forces on the offense by demonstrating their maturity and leadership," he said.
When asked about the highlight of the season, Coach Carpenter said it had to be the victory celebration after winning the game against Pickerington North.  "When we clinched a share of the OCC Championship," he said, "There was a lot of hugging, high fives, and dancing on the table to our new victory song Taking Care of Business."  
Senior athletes reflected on the successful season.  Quarterback and senior Tyler Monk said it was the game against Pickerington Central that he will remember. "My greatest memory from the season was beating nationally ranked Pickerington Central, it was an all around team win and I will never forget that night," he said.
Despite earning the co-champion title, the season was not without additional challenges, Coach Carpenter said that one of the biggest challenges the team faced this year was utilizing the players' abilities.
"That's why we decided to start as a two platoon team at the beginning of our season.  Several players were starting varsity for the first time and it took them some time to grow into the role.  This helped keep our team healthy when we got into league play," he said. "Every player contributed including the young players."
Coach Miller agreed, "We saw our young men improve with every practice as we prepared for every game," he said, "They came to work every day the right way and made sure everyone was accountable."